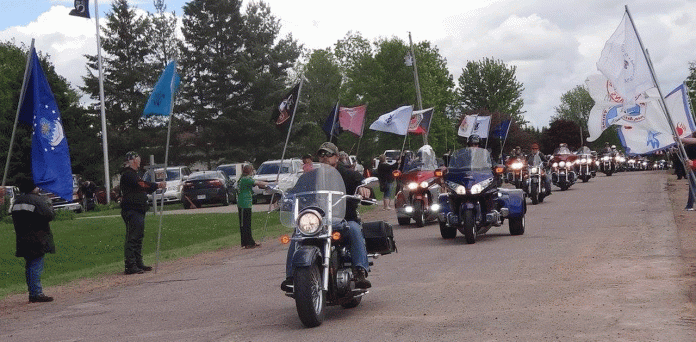 EXPLORE – The 8th Annual Memorial Day Honor Ride Motorcycle Rally will be held on Memorial Day, Monday, May 28th.
This year's Honor Ride will have eight different starting points: Eau Claire, Neillsville, Medford, Appleton, King/Waupaca, Minneapolis, Reedsburg and Tomah. Each route will tour through scenic areas in the morning; ultimately all routes will join together at the American Legion #73, 6 Boon Blvd, Neillsville. Riders (and the general public is invited, too!) will be able to try their luck at the annual Honor Ride Raffle & Silent Auction at the Legion. The entire Honor Ride will then parade as one group through Neillsville and to The Highground Veterans Memorial Park prior to The Highground's 3:00pm Memorial Day Ceremony.
All proceeds from the Honor Ride will go to The Highground Veterans Memorial Park. The Highground is the only manned veterans park in the nation. It is open year round and has several programs, ceremonies, events and exhibits throughout the year to offer healing and education for veterans, their families and all who visit.
Local sponsors of the Memorial Day Honor Ride include: Central WI Broadcasting (WCCN / WPKG), Hardee's, Zacho Sports Center, Sport Rider, Throttle Crue RC, Scheels, Wagner's Lanes, Marc-On Shooting, Russell's of Neillsville, Sav-Rite Building Center, JBC Screenprinting, Gross Motors, Prince Corp., Family Roots, Mark's Made 4 U, Sport Motors, Mulligans Bar & Grill, Drescher Oil / BP, Chicken Chaser's Bar & Grill, Battlefield Paintball and First Strike Paintball.
Registration for the Honor Ride is $25 per person and $15 per passenger. Each registered rider will receive an Honor Ride patch or year rocker and lunch at The Highground. Brew Pub Pizza and Hansen's IGA will be providing the Rider's lunch.
To join the Eau Claire route of the Honor Ride contact Shane at 715-559-0646 shanelgurney@yahoo.com. Registration will start at 7:15am and bikes will depart at 8:30am from the 400 Club (1411 Spooner Ave) in Altoona.
To join the Neillsville route, contact Mark at 715-937-2326 clubberman35@yahoo.com. Registration will start at 7:15am and bikes will depart at 8:15am from the BP Station (210 W Division) in Neillsville.
To join the Medford route, contact Dean at 715-785-8025 hommelsd@tds.net. Registration will be from 6 – 6:45am at the Hardee's parking lot next to the VFW on Hwy 13 in Medford.
To join the Tomah route, contact Bill at 715-281-4068 bill.flemal@gmail.com. Registration will start at 7:15am and bikes will depart at 8:00am from the Kwik Trip South (1504 Superior Ave) Tomah.
For additional Memorial Day Honor Ride information, including information on other routes, contact The Highground at 715-743-4224, events@thehighground.us, www.thehighground.us