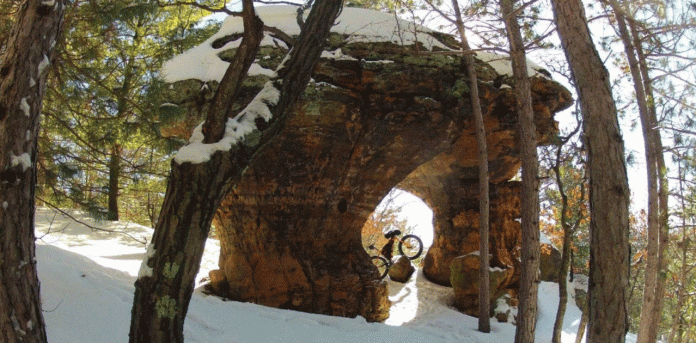 Fat Biking a Year-Round Sport
In Clark County, a renowned trail system is the destination of fat bikers miles around.
Levis Mound features nineteen miles of single-track biking from beginner to an advanced cliffside track, and attracts bikers in all seasons to its bluffs. "The entire trail has become known as one of the best in the Midwest," said Steve Meurett, Club Representative and volunteer of the Neillsville Area Trail Association. "The first single-track was built in 1987, and from that point, local volunteers have continued to design and construct more and more miles of trail."
The mounds rise 300 feet above the surrounding forest, providing a unique terrain in which to bike. In the winter, 15 miles of moderate trails are groomed by volunteers from the association, which includes Meurett.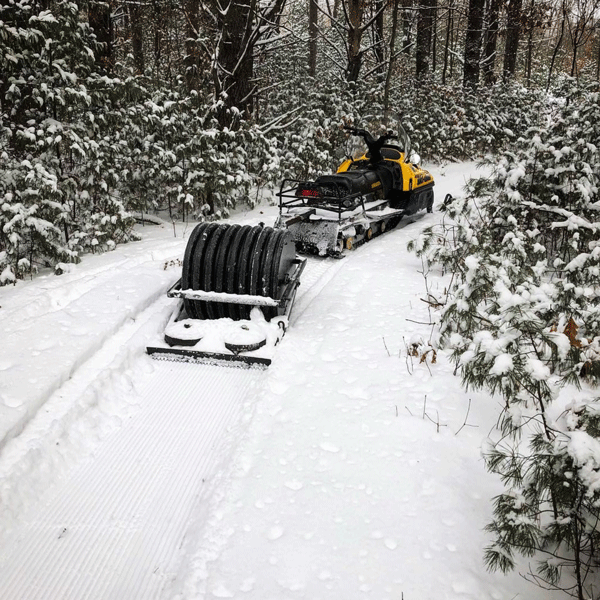 "We've added more loops over the past seven years as our equipment improved. We now own two groomers and use snowmobiles for pulling them," said Meurett. "Probably the most fun trail is "Goat Dance" where we use two downhill sections for fat bikes: 'Tipi,' downhill, and 'DB' is another downhill run. The rest of the trails tend to be rolling and twisty and just fun."
The sport of fat biking came from the Iditasport in Alaska. Mountain bikes were outfitted with wider rims and tires for flotation on snow. Meurett saw the first fat bikes in the area about ten years ago.
"They looks like clown bikes with those huge tires," he recalled. "I tried some and they did handle differently, were heavy, but were really fun to ride. I jumped on board about seven years ago, bought my first one, and just loved it."
Since then, fat bikes have become lighter and quicker. Despite its origins in the winter, fat bikes can be used year-round and are also great for sandy areas. Fat biking becomes more difficult in soft, dry snow or when the temperature is too cold, and the ideal snow is warmer and easy to pack. This season, the trails have been groomed four times to make the trail firmer and also faster.
"We've been lucky with some of our 'Sweaty Yeti' fat bike race dates, when it has been around 30 degrees on good snow," said Meurett. "Nothing beats that!"
Levis Mound's chalet burned down tragically in May 2016, but with insurance and an additional $24,000 raised through efforts by volunteers, trail users, and the fat biking industry, the building was replaced with improvements, such as showers. It is now up and running. The association continues to work toward other improvements, and all funds from the club account are used toward the trails.
Passes are required for use of the trail and to support its maintenance. A daily or seasonal pass for biking is available online, the Clark County Forestry & Parks Office, and Levis Mound trailheads. For snow conditions, visit the Levis Mound Facebook page.