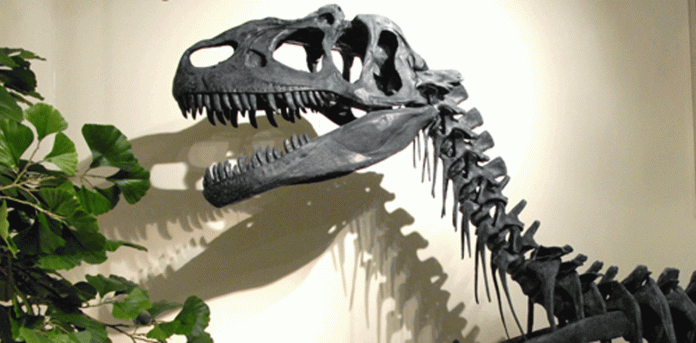 Augmented Reality Sandbox Latest Addition to Museum
11.2017 – Located within Albertson Hall at the University of Wisconsin – Stevens Point, the Museum of Natural History has exhibited a diverse range of topics in natural history since 1968.
"The UWSP Museum of Natural History offers visitors a chance to view examples of ecosystems, wildlife, and other specimens that they may not otherwise get to experience," said Lisa Viegut, Operations Manager. "For example, visitors can learn about the African Savanna during both the dry and wet seasons, the Arctic Tundra, and the Snow Glade without having to travel the globe."
The exhibits include recreations of natural environments around North America and Africa, Native American artifacts, fish, reptiles, and much more. At the prehistory exhibit, visitors can take a leap back in time with fossils of plants and animals, and even a fossil cast of a full-size T-Rex skull.
The museum, found on the library main floor, can be visited during library hours, found here, with directions here.
Admission is free, and tours can either be self-guided or guided by a trained tour guide. Tours last about thirty minutes and are flexible for the needs of the organization and the age of the audience. The museum can even work with the UWSP Herpetology Society to present live specimens from the vivarium.
Area classrooms often visit the museum for a tour. "Kids who visit the museum seem to really enjoy the experience," said Viegut. "The feedback we receive is all positive."
After passing through the museum, stop by the gift shop for souvenirs, books, educational toys, posters, apparel, and a host of other items. Proceeds helps fund programming, research and exhibits.
Most of the exhibits are permanent with the occasional update, but that's not to say there never something new to check out.
"Our most recent addition is an augmented reality sandbox which allows visitors to move sand around to create a unique 'landscape' which comes to life with a real-time elevation color map, topographic contour lines, and simulated water," said Viegut.
The Spring semester will also bring the re-installation of the Menominee Clans and Ho-Chunk exhibits, which were moved in early fall due to construction in the building.
At the Collection Crawl open house event in April, the public can get a special look at specimens normally not on display at the museum and speak with professors and students. "We open up the labs associated with the various collections so that the public can see how some of the specimens are used for teaching and research," said Viegut.
Address
900 Reserver Street
Stevens Point, WI 54481