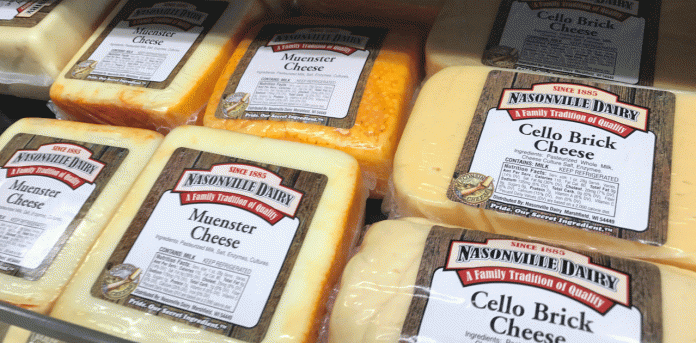 June Dairy Month a Great Time to Enjoy Wisconsin Cheese
It's June, and that means National Dairy Month. In Wisconsin, it's a time to appreciate one of the state's top industries and its respectable place on the world stage.
The highest producer of cheese in the United States, Wisconsin wins more awards than any other state in major cheese contests. Ninety percent of Wisconsin cheese is sold outside of the state.
Wisconsin produced over 3.42 billion pounds in 2018, setting a new state record! That's a lot of cheese!
To celebrate Dairy Month, why not sample dairy products close to the source for the taste and quality out-of-towners make pilgrimages for? Luckily, Central Wisconsin has no shortage of dairy stores, and a squeaky cheese curd and a scoop of homemade ice cream is just a short drive away.
Here are several stores near you:
Weber's Farm Store
Located in the southwest corner of Marshfield, Weber's Farm Store acts like a small grocery store for dairy products and more. Find eggs, butter, cream cheese, sour cream, and of course milk. The milk, sold in pouches, is fresher and cheaper than the average supermarket, and includes flavored too.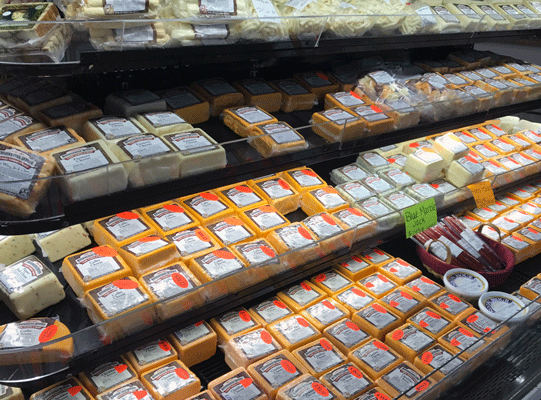 Eighty varieties of cheese stock the shelves. There's the common favorites and then the more far-out flavors like chocolate fudge and parmesan merlot.
Jams, honey, maple syrup, and bread can also be found at Weber's. For dinner, why not try one of their frozen pizzas (including the delicious bacon-broccoli-cheese pizza)? Weber's also stocks meat from local vendors, such as bratwurst, kielbasa, breakfast links, bacon and lean ground beef.
Grab a soft-serve ice cream cone through the drive-through after work, or relax with the family at one of the tables set out on the lawn out front. The kids will enjoy the playground!
9706 County Rd H, Marshfield, WI 54449
(715) 384-5639
Store Hours:
Mon.–Fri.: 8:30am – 7:00pm
Sat.: 8:30am – 5:00pm
Closed Sundays and Holidays
Wisconsin Dairy State Cheese Company
The largest dairy store in the area, lack of choice is not an issue at the Wisconsin Dairy State Cheese Company. It's the perfect place to stock up on a huge variety of cheeses: the store provides a staggering 200 types and flavors.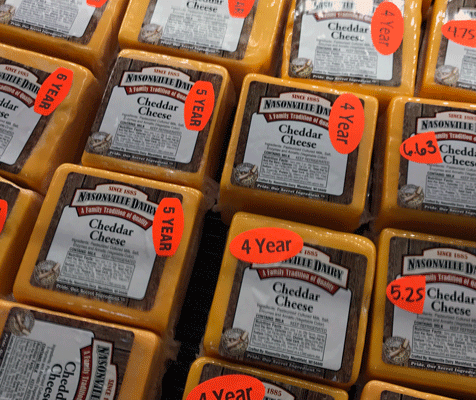 The prices are reasonable and the staff friendly. Gift boxes, cheese spreads, butter, and goat cheese can also be found. Like other dairy stores, the store goes beyond dairy products, offering beef sticks, honey, maple syrup, whey protein power, and more.
While pondering which flavor of cheese to try next, wander over to the ice cream parlor and choose from over sixteen flavors of ice cream.
Curious about cheese? The company allows its customers to get close to the cheesemaking process. Schedule a tour, or head up a short flight of stairs to take a look at the artistry at work in the plant below.
Highway 13/34, Rudolph, Wisconsin 54475
(715) 435-3144
Store Hours:
Mon. – Fri.: 8:00am – 5:15pm
Sat.: 8:00am – 5:00pm
Sun: 9:00am – Noon
Nasonville Dairy

Located off of Highway 10 near Nasonville Elementary, Nasonville Dairy carries on a cheesemaking tradition that's over 125 years old.
The sister store of Weber's Farm Store, Nasonville Dairy carries many flavors of block cheese, such as olive, bacon, and maple; cheese spreads, and fresh cheese curds.
Besides cheese, Nasonville Dairy offers jam, honey, maple syrup, Cedar Crest ice cream cones, crackers, summer sausage, beef sticks, wooden cutting boards, and more. The store also sells many products online. Why not buy a gift box for someone out of state and demonstrate just how delicious Wisconsin cheese can be?
10898 US-10, Marshfield, WI 54449
(715) 676-2177
Store Hours:
Mon. – Fri.: 8:00am – 5:00pm
Sat.: 8:00am – Noon
Sun.: Closed
Lynn Dairy
Lynn Dairy, also located off of highway 10 (watch for the large sign), produces 170,000 pounds of cheese per day. It won second place in the United States Championship Cheese Contest 2017 for its mild cheddar cheese.
A selection of their award-winning cheese is stocked at the retail store, not to mention fresh cheese curds (for a change, try a variety!) and cheese trays. Lynn Dairy also sells Amish candy, candy, cheese spreads, summer sausage, cutting boards, and more.
Family owned, Lynn Dairy is going into its fourth generation and boasts a global clientele.
W1929 US Hwy 10 Granton, WI.
(715) 238-7129
Store Hours:
Mon. – Fri.: 8:00 – 4:30pm
Sat: 8 – 4 p.m.
Sun.: Closed
Seehafer Farm Creamery
Situated north of Marshfield since 2014, Seehafer Farm Creamery specializes in processing its own milk for sale, ensuring the freshest-possible taste.
The spacious store sells its own cheese, makes cheese and sausage trays for special events, and offers ice cream by the scoop. The hamburger comes from Seehafer Farm cattle. Local vendors provide other items like honey, salsa, yogurt, butter, barbeque sauce, maple syrup, jam, and other cheeses.
The corn maze, wagon rides, and popular sleigh rides are offered seasonally during the fall and winter. Call ahead to check availability.
Address: M241 Highway 97
Phone: 715-384-5152
Store Hours:
Mon. – Fri: 9:30am-5:30pm
Sat.: 10:00am-4:00pm
Sun.: Closed
Festival Foods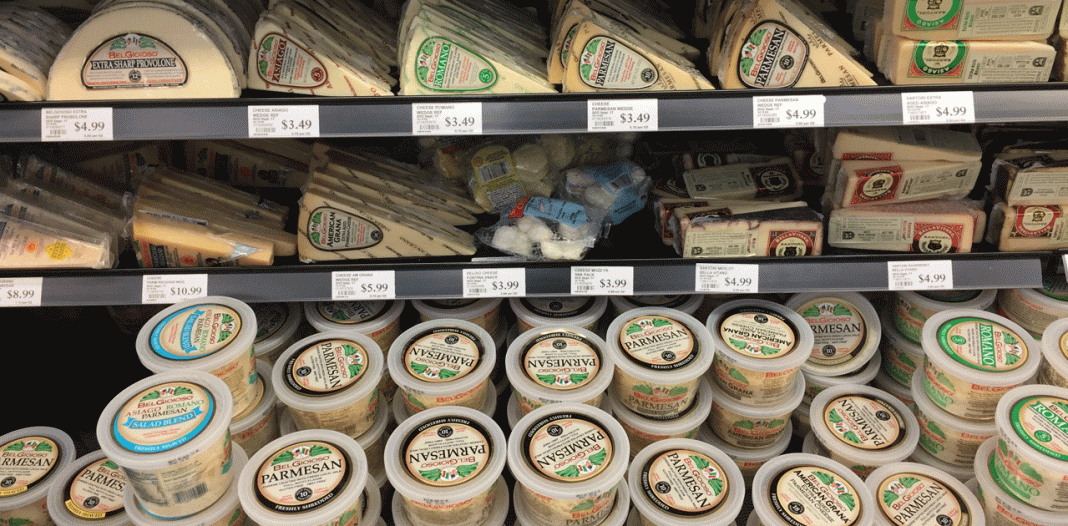 With stores across the state including in Marshfield, Festival Foods is meeting the growing demand for specialty cheeses by stocking around 200 varieties as well as stocking local brands. Specialty cheeses are more popular than ever, whether it's to toss in a salad for an extra kick, arrange on a beautiful cheese tray, or savor outright. In fact, Wisconsin makes almost half of the nation's specialty cheeses.
Try rosemary and olive oil, extra-aged Asiago, citrus ginger, and even chai. Then there's aged cheddar, jalopeno, herb, and the ever-popular feta. There's plenty of choice, and a convenient way to stretch your palate during your normal grocery run.
Store Hours:
Open 24/7
Editor's Note: This article has been updated to reflect 2019 information.