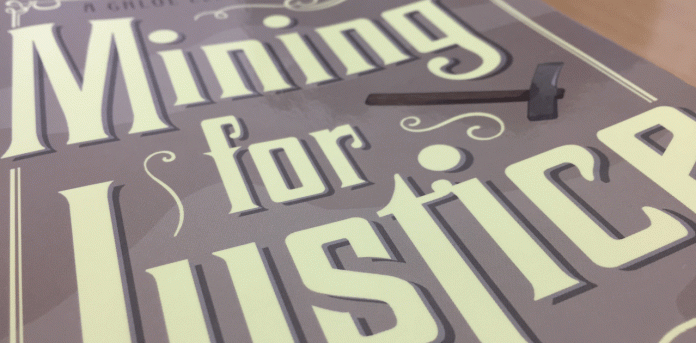 Latest Novel Delves into Cornish Lead Mining
by Kaylin Speth – Anywhere there's a hole in the ground, you'll find a Cornishman at the bottom.
This was the saying back when the men from Cornwall, England had built a reputation as great miners. In the 1830s, before Wisconsin had even become a state, they took that legacy with them to the southern region to mine lead.
It's this history that inspired author Kathleen Ernst to tackle their stories in her latest mystery novel, Mining for Justice.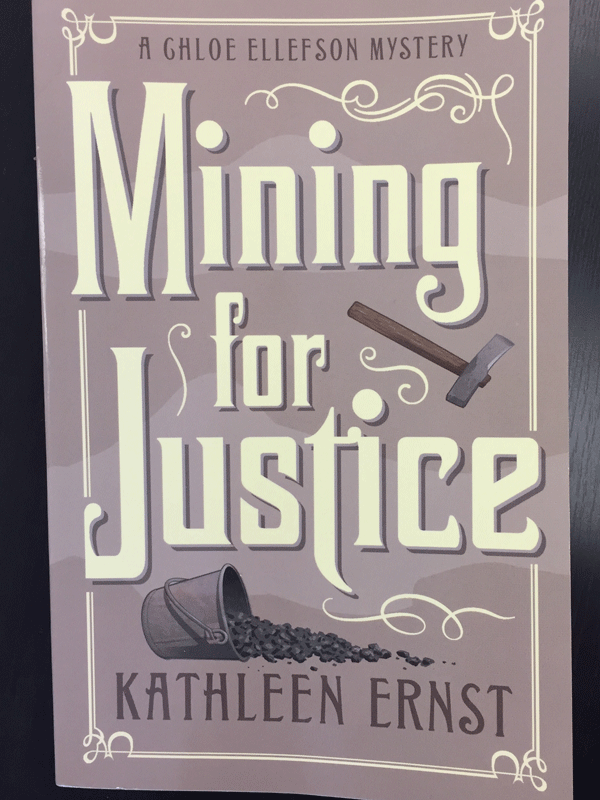 "I've always been interested in learning more about that time in history," said Ernst, a prolific writer whose books have sold over 1.7 million copies and include historical fiction and two nonfiction history books. Last fall, Mining for Justice became her 36th published book and the eighth in the Chloe Ellefson mystery series, which delves into the rich history of the state and beyond as Chloe uses her research skills to solve a murder.
"I think that Wisconsin has some amazing historical places and museums," she said. "I decided when I was planning the series that one of my goals would be to introduce them to readers."
Written for adults and mature teens, the books are traditional, enjoyable mysteries without explicit violence, sex, or gore. They have won the LOVEY Best Traditional Mystery Award and several nominations for both the Edgars and Agatha national mystery awards. For those new to the books, it is possible to dive into the latest installment without getting lost.
For the series, Ernst used her 12-year experience working as a curator and interpreter at Old World Wisconsin, an open-air museum near Eagle, as the base for her main character Chloe. The story is set in the early 1980s, the time period that the author worked at the site.
Being exposed to much of Wisconsin history means there's no shortage of topics for Ernst to explore, and she often gets asked how she selects her next setting.
"I have a pretty long list in my head of great places it would be fun to explore and historical stories I would like to share, but I really start with where the characters are at the end of the last book emotionally, and I think about what kind of challenges they are ready to face in the next book," she explained. "I look at possible sites and pick what will be best to explore that struggle."
The base of her knowledge of Cornish immigrants began early in her career. One of the first historical sites Ernst visited during her time at Old World was Pendarvis in Mineral Point, which preserves several cabins built by the Cornish settlers in the 1830s. In Mining for Justice, Ernst returns to the site in words as Chloe, on temporary assignment, comes across long-buried human remains in one of the Cornish cottages and must do some mining herself—in the historical records—for answers. However, uncovering dark secrets might put her own life in danger.
Ernst spent a year immersing herself in the time and place. Her research took her to the mining museum in Platteville and the hand-dug Badger Mine in Shullsburg, which helped her imagine the working conditions of the Cornish miners. She also visited Pendarvis and spoke with the knowledgeable staff to get advice about the best resources for information, and explored the collection.
Since the Cornish immigrants didn't leave many concrete records, artifacts play an important role in the book and also the series. Readers get a look at a miner's candle, called a Sticking Tommy; a windlass, used to haul up heavy loads; a foot warmer, heated with coals; and a cobbing hammer, used to break apart ore.
Ernst looks for artifacts in museums before writing the story and lets her imagination take over. "They were very poor when they came, so we don't have a lot from the early years, but there were some things in collection at Pendarvis that I was able to study," she said. "I start thinking about that object. Often there is no information about who made it, owned it or used it, so that's where my imagination comes in."
As a mystery writer, she also keeps a lookout for objects that could advance the mystery. "The Sticking Tommy candlesticks are great pieces and quite a few of those survive, but my mystery writer brain thinks, someone could do a lot of damage."
To fully explore the time period, Ernst weaves a historical subplot that takes readers back in time, this time following a strong Cornishwoman called Mary Pascoe on her journey to succeed in a new land. "No matter how skilled someone is at research, like Chloe, it's impossible to ever truly know what went on in someone's life in their head, in their heart," she said. "So by creating the historical fiction, I let readers in on the true story of what happened, and by the end of the book the readers know more than Chloe."
A portrait of an unidentified middle-aged woman hanging at Pendarvis influenced Mary's story. "I found the portrait very compelling, so in the end I decided to use the portrait to represent Mary Pascoe late in life," said Ernst.
The character aspires to own a tea set like the one at Pendarvis, a beautiful blue china teacup and teapot. Its original owner is unknown, but such a set would have been an important status symbol. "I think they symbolize how much the Cornish people accomplished after they arrived," Ernst said. "They must have felt so proud when they were able to invite their neighbors for tea."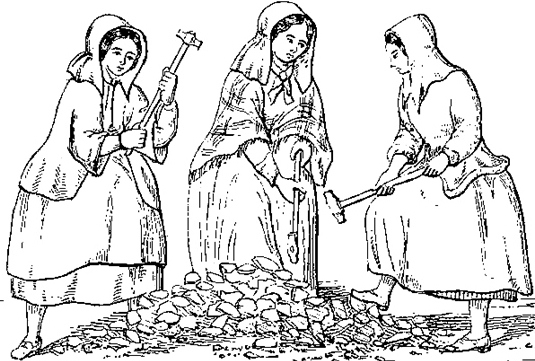 Mary's story begins when she is a child in Cornwall working above a mine. Bal Maidens were female workers who broke ore into small pieces and sorted them in all kinds of weather. The work was difficult and could be dangerous, and records show that children as young as six were put to work.
"Women often don't get as much time historically on the page, and so I often find myself looking for stories of strong women," said Ernst. "In the case of the Cornish women and girls who worked in the mine, I think that's an amazing story. They did very heavy work, and I'm fortunate enough as a novelist I'm able pay tribute to a lot of these women whose stories never got written down."
Readers have an opportunity to delve further into Cornish culture via Ernst's expansive website. Click through interactive Google maps to see the places Chloe visits, and look at artifacts and Cornish pasties on the Mining for Justice Pinterest board. The book includes photos of historic objects and places that are mentioned in the story, plus a locations map, a cast of characters, and a glossary of Cornish words.
A ninth Chloe Ellefson mystery is already underway. Called The Lace Maker's Secret, the book follows Chloe to a consulting job at Green Bay's Heritage Hill Historical Park to work on furnishing plans for a restored Belgian-American farmhouse. What is meant to be a relaxing escape is instead interrupted by the discovery of a body in a century-old bake oven.
For Ernst, writing about the mid-nineteenth century Belgian immigrants was a chance to bring the history about this lesser-known group of settlers to the forefront.
"One of the things I try to do in the series is celebrate our state's ethnic diversity. I wanted to write about the Belgian American history, which we don't hear a lot about but is quite a concentration in the Green Bay area and into southern Door County and Kewaunee," said Ernst. "I thought that would be fun to explore."
Her research brought her to Heritage Hill to meet with staff and learn which resources they had, and the Belgian Heritage Center.
Once again, a historical subplot will thread itself through The Lace Maker's Secret and follow a young woman who immigrated from Belgium. Settlers in the region faced many challenges, like trying to farm the heavily forested land and enduring cholera epidemics, the Civil War, and the Great Fire, which devastated the region.
"Every time they felt like they were making progress, something happened," noted Ernst.
The book is scheduled for release on October 8, 2018. With the ninth book completed, she is already turning to her tenth mystery novel, and given the infinite ways to explore Wisconsin's history, doesn't see an end to the series quite yet.