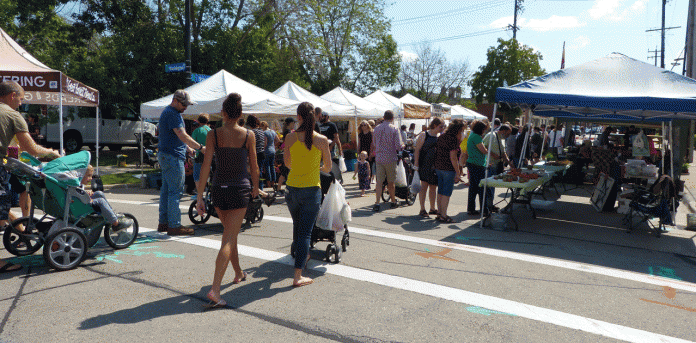 You may know about the Madison farmers market on Saturdays, but what about Green Bay's?
by Kaylin Speth – If a Packers game brings you to Titletown, be sure to check out this farmers market near the Fox River. If the crowds are any indication, this market is a popular place to spend a morning and offers much more than produce. It's a family-friendly outing that continues a 100 year-old tradition—one that's older than the Packers.
From 7 a.m. to noon, over 150 vendors sell seasonal produce and more. Find homemade pastries and breads, specialty tea blends and coffee, jams, honey, fish and meat, dog biscuits, scented soap, jewelry and other handcrafted items. Sniff out the flower bouquets and single buds, herb plants and succulents. There's plenty of unique items to discover, from purple cauliflower to Harry Potter wands.
Bring a reusable tote to stock up on healthy choices for the week, or pick one up for free by Walnut Street courtesy of the BayCare Clinic. For larger loads, borrow a shopping cart near the entrances. While perusing the tables, ask the vendors where they grow their produce: the majority comes from a 75-mile radius. Certified organic and EBT vendors are available.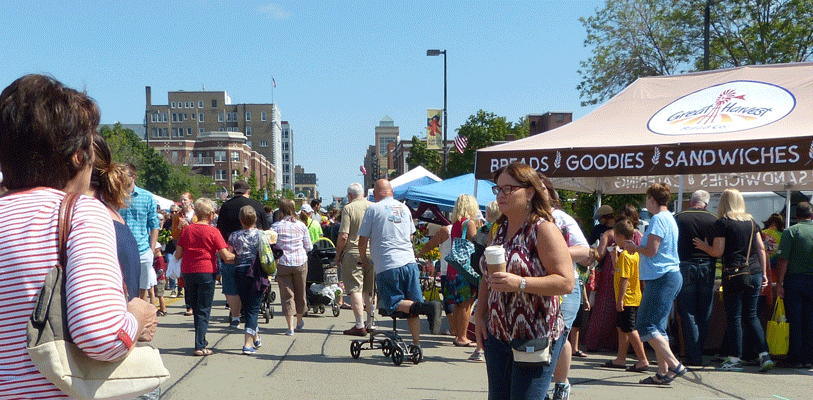 There's live music every weekend from 9-11:30, so claim a table by the food vendors and listen for a while. Get a cup of coffee or some bubble tea, and try some ice cream and ethnic foods.
Parking is easy to find with the Cherry Street Ramp parking garage on the corner between Adams and Washington. Best of all, parking is free on weekends in Downtown Green Bay. Other places to park include the Adams Street lot and all nearby streets. For handicap parking, use the Quality Inn lot, St. Brendan's Inn and first level of the Cherry Street ramp.
For vendor, music, and yoga class information, visit this website. The farmers market runs from late May to the end of October each year.
Looking for something else to do in the Downtown area? Breakfast at vegetarian-friendly coffeehouse Kavarna with a cup of their Milwaukee-roasted coffee. Go for a stroll on the Fox River trail (there are bike racks near the Riverwalk Plaza building for those biking into the market) and lunch or take a tour at Titletown Brewing Company.