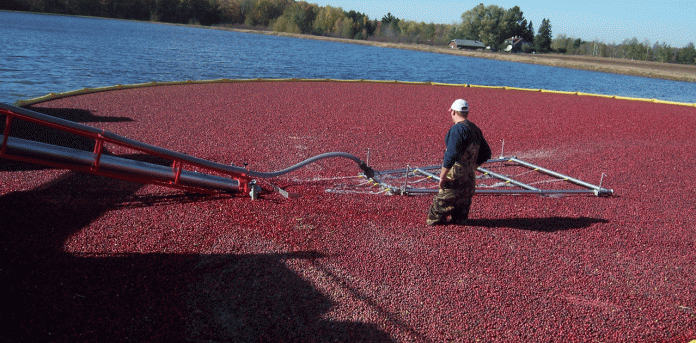 Cranberry Tours Support Pittsville High School Students
The cranberries are ripening, and red is blossoming across the Central Wisconsin landscape.
If you'd like to see a marsh up close, be sure to reserve a spot on one of Pittsville High School's Splash of Red cranberry tours. On the tour, visitors get to witness the harvesting process, visit a receiving station, and even pick their own fruit before finishing the morning with a cranberry-based meal.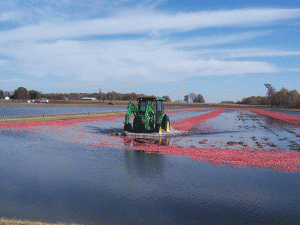 "The tourists are given the opportunity to get an up close and personal view," said Lindsay Meissner, agricultural education teacher and FFA advisor. "Pittsville's pretty much the heart of cranberry country."
Tours meet at the Pittsville School Auditorium with an introductory video at 9:15 for early arrivals. After a short introduction, buses transport visitors to a marsh that's undergoing the harvest, and one that's only one or two years old. Then the winter process for cranberry production will be covered.
Pittsville High School students are the ones who'll be explaining the process.
"Our Cranberry Science class runs the tours, and then also they serve the meal," she said. "From setup to cleanup they are in charge of everything."
From the marshes, the tour visits a receiving station to see the cranberries stored in bins and frozen. A lab station tests the berries for sugar content, acidity and color.
The tour heads back to the high school, this time to enjoy a cranberry-based lunch at 11:30. On the menu is a pork sandwich with cranberry horseradish, Wisconsin cheese soup, and ice cream with cranberry sauce made by the high school's "Local Foods" class.
Overall, the tour is a good value, and the money raised helps out the students who run the tours, the cranberry science class, and the Pittsville FFA.
"The cranberry tours will help pay for student scholarships, and some of our trips throughout the year," Meissner said.
The charge per person is $20 with a discount for large groups. To reserve a spot, call 715-884-6412. Seats are limited, so call early to ensure a spot. The dates for 2018 are  Oct. 10, 12, 17, 19, 24 and 26th for adult groups, and 11 and 18 for groups of 20 or more. Visit the website for more info.
For another way to see the harvest, take a drive on Wisconsin's Cranberry Highway in October. It's a fifty-mile, self-guided tour past cranberry marshes from Wisconsin Rapids to Warrens. Follow the map here.