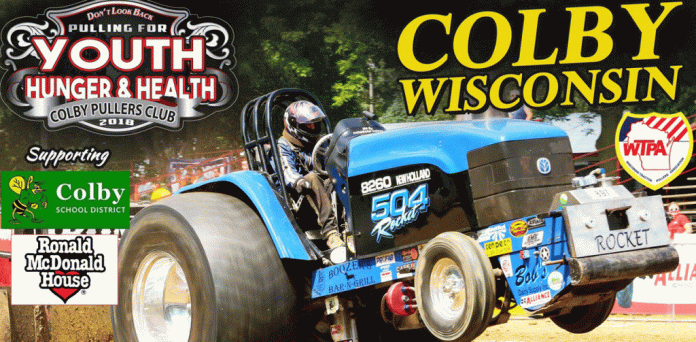 Event Features Seven Classes of Pullers
The Colby Pullers Club will be hosting its first NTPA/WTPA event with seven classes of pullers from around the Midwest, called "Pulling for Youth Hunger & Health" on Saturday, July 21 at 6 p.m.
The event will support two causes, including United Way's "Fill a Backpack, Fill a Need" program to bring back-to-school supplies to Colby Elementary School, and the Ronald McDonald House in Marshfield.
"RMHC is a wonderful thing to have in our area, and they do things there that go way farther than meets the eye," said Brett Ewert, club secretary and long-time board member. "The Fill a Backpack program is one that most people may not even know exists in our local schools, and it's one that is severely underfunded. Some schools simply don't have it because there are no funds at all."
"To help this program out, and know that these elementary age kids will have the comfort of knowing that they will have something to eat over the weekends when there is no school, is something we as a club absolutely had to do for our kids in our community," he added. "We couldn't be more proud as a club to be raising money and raising awareness for these to causes. We're excited for the event, but even more excited about the people we are helping out."
The club teamed up with Colby Elementary School for a coloring contest featuring WTPA tractors or trucks that will be at the event itself. Out of 400 submissions, eight winners were selected for creativity and will get to take pictures with the vehicle they colored. Contest pictures can be purchased for $10 at the Pullers Club or Nicolet State Bank in Colby, all proceeds benefiting the backpack program.
Colby Pullers Club hopes to raise $10,000 for the Ronald McDonald House through gate admission, a silent auction and 50/50 raffle, and by selling stickers and T-shirts, which can be purchased ahead of time through the form on the Colby Pullers Facebook page or by contacting a member directly.
A signed Packers football, Badgers and Bucks items, and other items will be on the silent auction, and pair of guns is to be raffled off.
Support like this is critical for the mission of Ronald McDonald House, said Iilee Pederson, Executive Director. "Donors play a substantial role in supporting children's health, keeping families together, and eliminating parents' stress about the expense and burden of securing lodging and meals during their child's hospitalization."
Families who stay at the Ronald McDonald House travel far for care and spend long periods at the hospital supporting severely ill children. The House allows them to be nearby and access the best medical care for their child. Monetary support helps cover the cost of their stay and allows the charity to operate free for families.
"Ronald McDonald House keeps families close because we believe healing happens together," Pederson said. "Our generous community supporters and donors help to provide 24/7 hugs and kisses for our smallest patients and their families during times when they need it most."
Tickets for the event will be available for $15 at the door for ages 13+ at 705 E. Spence St. Ages 12 and under are free. Classes include Light Super Stock, Limited Light Super Stock, Limited Pro Stock, Light Pro Stock, Mod Four Wheel Drive, Super Farm and Mini rods. The club hopes to make this an annual event and make it bigger and better each year.