Exhibit to Be Dedicated June 2
On Saturday, June 2nd, the public is invited to attend the dedication of the Military Working Dog Tribute at The Highground Veterans Memorial Park near Neillsville.
Dogs have fought alongside American forces in every conflict since the Revolutionary War, but only officially since WWII. They have been trained and deployed as sentry, scout, messenger, mine, casualty, tunnel, and explosive-detecting dogs.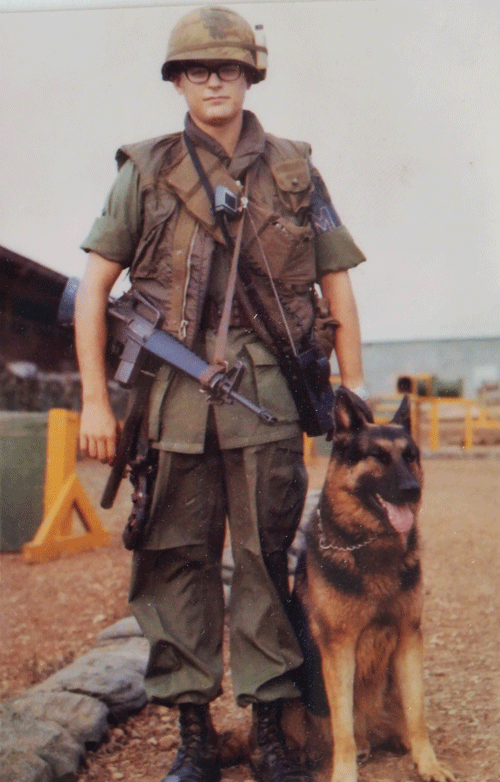 Before President Clinton passed "Robby's Law" in 2000, military working dogs were considered "military surplus equipment" and deemed unfit to adjust to civilian life. This meant that once the military could no longer use a canine, it was either released or euthanized instead of honored. The new law permits retired military working dogs to be adopted, most often by a former handler. These dogs are on the front lines of our wars. After several years of planning, fundraising and construction, the Military Working Dog Tribute will be dedicated with several events at The Highground on June 2nd.
11:30am – A "Quilts of Valor" program will present nine veterans with handmade quilts. The mission of the nationwide "Quilts of Valor" organization is to "cover service members and veterans touched by war with comforting and healing Quilts of Valor." These quilts are made with the specific veteran in mind, personalized for them according to their service. Many of the Quilts of Valor presented on June 2nd will be for veteran military dog handlers and information on the military working dog (MWD) they served with will be reflected in the quilts.
Noon – K9 demonstration by Wisconsin State Patrol Trooper David McCarthy and his State Patrol explosives K9, "Capo". Trooper McCarthy served for 8 yrs as a MWD handler with the U.S. Air Force.  In addition to his distinguished service as a MWD handler, he was also tasked with training and supervising several MWD teams. He joined the WI State Patrol in 1999. While assisting the FBI with a search warrant in 2013, Trooper McCarthy and explosives K9 German Shepherd "Max" located 18 homemade explosives devices in a cabin prior to the entry of the federal agents. "Max" retired in 2015 and lived the remainder of his life with Trooper McCarthy and his family.
1:00pm – Dedication Ceremony of the Military Working Dog Tribute. Veteran's posts from Bloomer, WI (American Legion Post #295, AMVETS #6440, VFW  #6175) and the Loyal, WI American Legion Post #175 will lead the ceremony with Color Guards and Rifle Units. The ceremony is sponsored in part by the Wisconsin Dept of Tourism.
Speakers include:  Mike Voorhees, a Vietnam veteran MWD handler and the first handler of the K9, "Satan4A16", the MWD whose story led to the original formation of a committee to create The Highground Military Working Dog Tribute;  David Backstrom, Vietnam veteran and chairman of the MWD Tribute Committee; Mike Olson, Vietnam veteran MWD handler and MWD Tribute committee member; and State Patrol Trooper David McCarthy. A poem specially written for the dedication will be presented by poet and Vietnam veteran, Steve Maddox.
A presentation of a MWD "battlefield memorial" will be placed during the dedication ceremony and there will be a time for the public to lay wreaths and flowers at the MWD Tribute. For more information go to www.thehighground.us or call 715-743-4224. The Highground is located at W7031 Ridge Rd, Neillsville WI 54456.