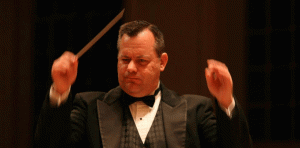 Singers Welcome to Audition for New Season
Central Chamber Chorale Board is pleased to announce that Dr. Richard Brunson will be the music director for the Central Chamber Chorale. His wife, Mika Brunson, will serve as the group's accompanist. For the Fall 2017 season, the group will present a program to "Celebrate Music".
Dr. Richard Brunson currently serves as Assistant Professor of Music at the University of Wisconsin – Marshfield/Wood County campus where he conducts the Marshfield Symphony Orchestra, Marshfield Symphonic Band, the Concert Choir.
Before coming to Marshfield, Dr. Brunson taught at Salt Lake Community College in Salt Lake City, UT. He was the founder and director of the Taylorsville Symphony Orchestra in Utah, and taught at Alta High School for eight years.
Dr. Brunson holds a Bachelor of Music in Music Education, and a Masters of Music in Orchestral Conducting from Brigham Young University, and a Doctor of Musical Arts Degree from the University of Nevada Las Vegas. While in Las Vegas Dr. Brunson re-formed and conducted the Desert Spring Chamber Orchestra.
Mika Brunson, a lecturer in music, earned her Bachelor of Music from Brigham Young University and Master of Music from University or Nevada-Las Vegas.  Brunson has taught at UNLV, College of Southern Nevada and Snow College in Ephraim, UT.  Brunson is a tenured member of the Las Vegas Philharmonic, a frequent performer with the La Crosse Symphony Orchestra, interim 2nd oboe and played with the Central Wisconsin Symphony Orchestra.
New singers are welcome to audition for the upcoming season. Music may be performed in English, Latin or German and other languages. Three free concerts are performed in November and March/April at three different sites, all in one weekend.

Members must be able to sing, blend, follow directions, regularly attend rehearsals, and read music.
Membership is subject to a "singer friendly" audition. High school students with appropriate musical and vocal skills are welcome to inquire about membership, as well. Rehearsals will be held in the UW Marshfield/Wood County choir room on Tuesdays from 7:00-9:00 p.m., September 5th to November and January-March.
The area served is Central Wisconsin: Marshfield, Wisconsin Rapids, Medford, Abbotsford and surrounding areas. Central Chamber Chorale receives funding from the Wisconsin Arts Board.
For more information, go to www.centralchamberchorale.com or contact the music director, Dr. Richard Brunson: richard.brunson@uwc.edu or 715-389-6542 or the Board Chair, Ann Stevning-Roe: anns-r@frontier.com or 715-897-6723.