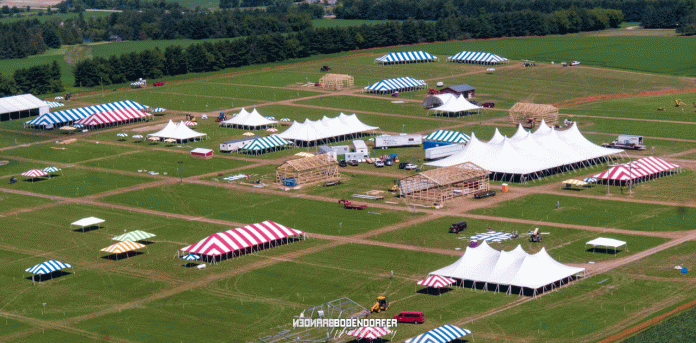 For the first time since 1960, Wood County is hosting Farm Technology Days July 10-12. The largest agricultural show in Wisconsin will be host to about 700 exhibitors. You might learn a lot about the latest improvements in the field, but there's time for fun and awe as well. There's plenty for the kids to do, too.
Check out machinery displays, demonstrations, the family living tent, entertainment, and farm products, and the "World's Smallest World's Largest Round Barn." Sternweis, Weber and Heiman families will host.
See below for a surface look at what the three jam-packed days will offer, according to the official program. Find further info and performance times at wifarmtechnologydays.com.
Times and Dates:
July 10 – 12, 2018
Tuesday – Thursday
9 a.m. – 4 p.m.
Admission fee: $8, cash only; children 12 and under free. FFA and 4-H students accompanied by an instructor are free.
Parking: Free, General and exhibitor parking on east and west sides of Tent City.
Not allowed: smoking or weapons are not allowed on the Show Grounds; Dogs.
Farm Tours: 30-minute farm tours of D&B Sternweis Farms run continuously starting 9:30 a.m.
Food and Meals: Besides all the favorites, food at Farm Tech Days will feature cranberry products including cran-grape juice and cranberry cookies. Breakfast is $6 from 7-10 a.m. with potato pancakes and cranberry maple syrup in Food Tent 2.
Innovation Square – Learn More About: Sustainability and water conservation practices through aquaponics; AgrAbility services to farmers experiencing difficulties from injury or disability; Driverless equipment; drones in agriculture; biochar production; solar energy; Astronaut A5 Milking Robot; installing drainage tile through Soil-Max; Maximum Duty Vehicles allowing users to lift up to 750 pounds; cranberry marsh representation with interactive tour in hip boots offered from 11-2 p.m.
Field Demonstrations: Featuring alfalfa forage harvesting. Manufacturers will demonstrate equipment and visitors can check it out after each demo.
10-12, 1-3: Mowing
10-12, 1-3: Merging and forage chopping
2019 Oliver/Hart Parr Summer National Show: Held in conjunction with Farm Technology Days featuring 200 Oliver tractors. Enjoy a ride around tent city in a tram pulled by exhibitors. The Heritage Tractor Area features 100 tractors and implements from the past.
Future Generations (for Youth) – Hands-On Activities/Learn More About: DNA, Central WI Students Art Display, 1/16 scale model farm, library programs/build with Legos, careers in construction, hydro graphics, Mead Wildlife Area, Nursing/Baby Changing Area, plumbing and pipefitting (virtual welder), record deer trophies, Christmas tree production, Ag in the classroom, beekeeping, maple syrup production, STEMMing into Animal Science with Wood County 4-H.
Outdoor Exhibits:
Fiberglass cow that milks, antique tools and artifacts, engineering careers with heavy equipment simulators, dog breeds with Marshfield Area Kennel Club, plant display and cut flower field with Mill Creek Gardens, Safe Play Area for children under 6 by National Farm Medicine Center, shoot B.B guns at targets and tour wildlife educational trailers, Shady Lane 4-H Photo Booth, climb a tree like an arborist, archery, fire safety, fur trapping, llamas and make-and-take fiber project.
Indoor Stage: Troy Landwehr – Cheese Carver, Clark County 4-H, library, Kathy McGrath- Monarch Enthusiast, Main Street Conservatory of Dance, WSAW Channel 7 – About Weather.
Outdoor Stage: Adventures with Ma & Pa – Tools from the Past, Colossal Fossils – When Dinosaurs Ruled, Kids Yoga, Marshfield Kennel Club, Mill Creek Gardens – Make Floral Arrangements, K-9 Demonstrations, Wood County Youth Llama Project – See Llamas in action.
Progress Pavilion – Exhibitors: Aquatic Invasive Species, Creating Tomorrow's Woodland's Today, Department of Public Instruction, Forestry, Growing Wisconsin Agriculture, Invasive Plant ID and Management, Land & Water Conservation Department, USDA National Agricultural Statistics Service, Nutrient Management Planning, Plant Protection & Quarantine Program, Plumbing Safety, US Army Corps of Engineers, USDA Farm Service Agency, USDA Natural Resources Conservation Service, USDA Natural Resources Conservation Service – Soil Health, USDA NRCS Soil Pit, USDA Rural Development, general emergency preparedness, WI Radiological Emergency Preparedness, DNR Natural Heritage Conservation – Bats and Pollinators, WTCS Agriculture Programs, Your Home: Safe & Healthy.
Education Station Demonstrations: Raising backyard pastured poultry and manure gas safety equipment, new app for price of standing forage and UW- Extension research projects, interactive challenges on human resource management, etc., gardening, no-till corn plot and management practices, interseeded cover crops, rainfall simulator demonstration, cover crop plots, alfalfa plot, backyard chickens, extension educators with expert advice.
Family Living Educational Booths – Exhibitors/Topics: Protect family from household poisons and farm exposures, health care fraud and abuse, Everett Roehl Marshfield Public Library, Farm Wisconsin Discovery Center in Manitowoc County, Wisconsin's historical logging industry, Hub City Central Railroad Club, Wisconsin ginseng and festival, Leadership Marshfield Weighted Blanket Projet, Lifespan Respite, Main Street Marshfield, Marshfield Area Pet Shelter, Stop the Bleed campaign, North Wood County Historical Society display, art of quilting, virtual dementia tour, coping skills for stress and mental health, Wisconsin Department of Agriculture tips to protect from scams, Wisconsin Outstanding Young Farmer Program, land surveying, Wood Co HCE, Wood County Veteran Service Office.
Family Living Tent – Exhibitors:
After Hour Creations, Chris Peschel Signs, Cindy's Crafts, Dale Leffel Plaques, Gifts-2-Go!, Gypsie Gems, Honey Bear Stitches, Karen Beining, Kinney's Ceramics, Koeblers Acre-Ette, Lockhart's Firewood Gripper, Milkweed Market, 1906 Farmstead Soaps, One More Time, Pittsville Art Club, Artisans Guild Art Studio (create matted ink creation), Sarah's Garden, Simple Primitive, Take a Tote, Waggin' Tails Collars, Wisconsin/Nicaragua Partners of Americas, Wisconsin State Genealogical Society.