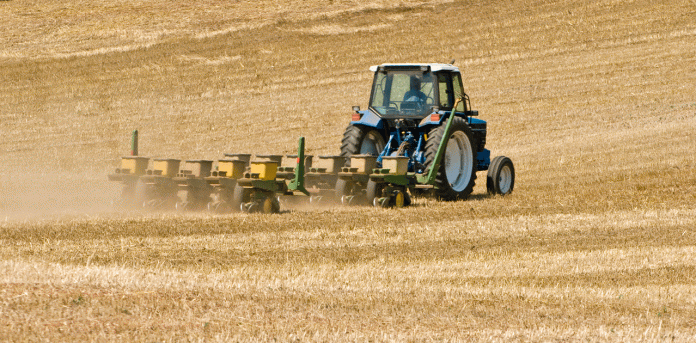 Long Hours and Hard Work Crucial to Farming
Local residents, Daryl and Brenda Sternweis, Ken and Joellen Heiman, Kelvin and Marilyn Heiman and their families will host the largest agricultural show in Wisconsin in 2018 as Wisconsin Farm Technology Days comes to Wood County.
By Michelle Tesmer – Traditions run deep when it comes to family farms. Ken Heiman entered the farming world in 1995 when he and wife Joellen purchased her family farm. Their sons are the fifth generation to work on the farm, and there are three generations currently working together.
"I truly enjoy watching them find ways to improve the operation and continue the forward-thinking approach we have," said Heiman.
When it comes to herd size, there is a wide variety throughout the state. Some farms have a handful of cows, while others can have as many as 8,000. "Years ago, each of my sons would've left and farmed on their own. Maybe each would have 150 cows and several tractors," he said. "Today, we're all able to farm together, work together and spend time together every day, sharing equipment and responsibilities."
Growing up as a farm kid also helped instill a work ethic in the Heiman children. Not only did they see firsthand what long hours were like, they grew up prepared to work as adults. Heiman said modern day threats to farmers come from people who do not know what it takes to run a farm.
"Agriculture has built its foundation on science and research, and now it seems many of the laws are being made on public emotion and there's no science behind it. I could also say that rural labor is another issue that will greatly impact the future of farming," said Heiman. "Agriculture is now less than 2% of the population. That leaves very few accustomed to the long hours and hard work required in this industry. Youth today just aren't used to the idea that you have to stay until the job is done, the field is planted or harvested."
And when the help is plentiful, the weather can change everything in a day. With a rainy 2017 spring and planting season, many fields were difficult to work and had to be replanted. Heiman gives thanks that rain was their only concern as other states are dealing with massive droughts, and closer to home, areas were hit with hail.
"Although this year has been abnormal, I can look not too far away and feel that we're okay," he said.
As Heiman's sons grow with the family farm, new technology is often introduced. A robot is now being used to do the final teat dip in the parlor.
"This has been able to create more efficiencies and accuracy so that every cow gets the right amount of protection on her teats as she leaves the parlor," Heiman said. He also added that GPS coordinates and drones are being used in land management.
Heiman's parting thought on family farming is that the profession is something you have to love and be willing to care for. "I'm blessed that this is truly a family business and together we can really specialize in areas that we are most passionate about," he said.