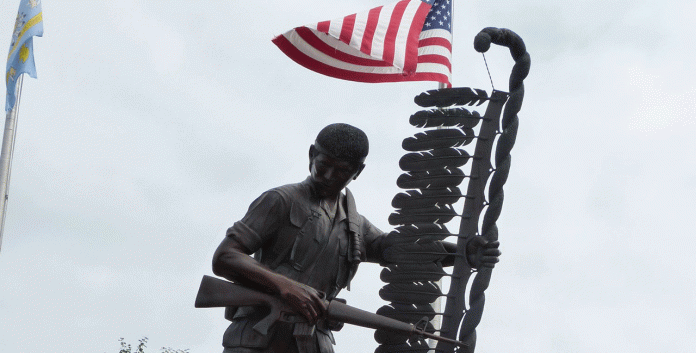 Explore – The Highground Veterans Memorial Park will observe Veterans Day on Sunday, November 11th. At 10am, the names of the 1,244 Wisconsin KIAs/MIAs in the Vietnam War, 877 names of the WI KIAs/MIAs in the Korean War and over 150 names of those from WI who have died while serving in Iraq, Afghanistan and other regions through present day, will be read and honored with the tolling of the Liberty Bell. Volunteers are needed to help read these names.
At 11am, The Liberty Bell will be tolled and "Taps" will be played in special honor of the 100 year anniversary of the end of WWI.
The Veterans Day ceremony, with Color Guard provided by the Thorp VFW #9057, will start at 1:00pm. The ceremony will be held indoors in The Learning Center. Highground Board of Directors member, Steve Maddox, will welcome everyone to The Highground and preside over the ceremony.
Pastor Jakoba Koppert will provide the invocation. Special recognition will be given to those who served and sacrificed in WWI as part of the Veterans Day program. Gary Foster, author of "Notes From the Trenches – A Musician's Journey Through World War I" will give a presentation and speak during the 1pm ceremony. There will be additional WWI German and US military items on display courtesy of Troy Buddenhagen and The Highground Veterans Museum.
Drawing of the winners of the 2018 Veterans Raffle will take place after the Veterans Day ceremony.
The Highground will be collecting items for homeless veterans and needy families from Nov. 1st – Dec 1st. The items most needed are: disposable hand warmer and foot warmer packets, new socks, hats, and gloves. Other items being collected are: New or gently used and cleaned Winter outerwear, boots, mittens, sleeping bags, non-perishable food and toiletry items. These items can be brought to the collection site at The Learning Center between 9am – 5pm (open every day) Nov 1st – Dec 1st.
Please contact The Highground at 715-743-4224, events@thehighground.us or go to thehighground.us for more information or to volunteer to be a part of this meaningful day. The Highground is located at W7031 Ridge Rd, Neillsville WI 54456.