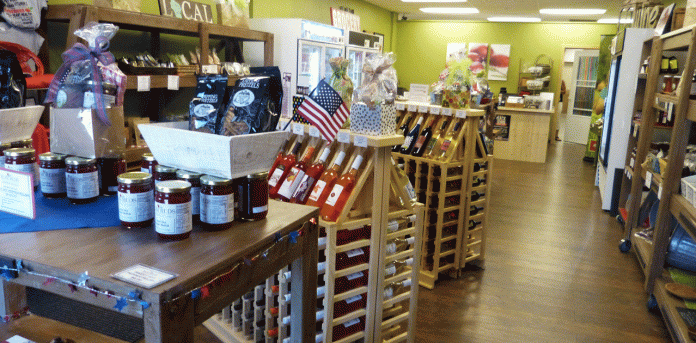 Wisconsin Rapids Cranberry Store Great for Gifting
Cranberry lovers can find their fill at specialty food market Rubi Reds in Wisconsin Rapids.
"We represent all things cranberry," said store co-owner Marcy Berlyn. "Probably 95% of our inventory is Wisconsin made."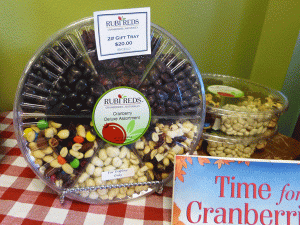 Fittingly located in a county that produces the most cranberries in the state, the store since its 2012 opening has grown from a small storefront selling dried cranberries and a handful of gourmet products to a much wider range including wines, cheese, baked goods, gift trays, and many other specialty items.
"Each year we grew more and increased our product line, tenfold at this point, and just continued to find unique food items made in Wisconsin," said Berlyn.
Some of the most popular items include chocolate-covered cranberries, cranberry wild rice brats, and sweet hot pepper relish, which is one of the few cranberry-free products. But the bestseller, perhaps unsurprisingly, is the sweetened dried cranberries.
Those come from Mariani Packing, a fruit processing company with a location in Wisconsin Rapids, and which would played an essential role in the formation of Rubi Reds. A family had owned the local fruit processing plant and operated a small retail outlet for its products. Fifteen years later, the family sold the business to Mariani, which decided to close the outlet after a year.
That's when Berlyn, her husband Steve, and couple Kurt and Kelly Heiman stepped in.
"The opportunity fell into our lap," she said. "Kurt and Steve had talked for years about doing something in business together in addition to their careers. Honestly it started because they wanted to play cribbage on Saturday morning," she laughed. "That's the joke."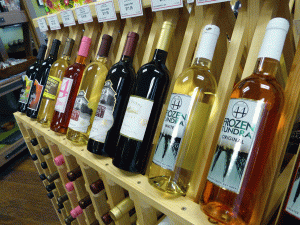 The four recognized the chance to promote the cranberry industry via a store with a customer base already in place. Berlyn stepped up full-time while the other three continued with their careers. The store began with two part-time employees, now employing six.
The store started out with three cranberry wines, all from Three Lakes Winery, and expanded the selection from there.
"We discovered over time pretty quickly that people love wine and wineries in Wisconsin," said Berlyn. "We represent probably eight or nine different wineries in the state."
From there, the business expanded into other services, like wholesaling and charity fundraising. Rubi Red's provides brochures for organizations around the state that would like to fundraise for their cause. Schools, churches, and non-profits have used the opportunity again and again, said Berlyn, and have found a lot of success.
"The organizations that use us love it because it's Wisconsin made and it's good gift-making," she added.
Gift-making is a specialty of the store, ideal for clients, employees, and holidays. Trays are filled with different types of nuts and cranberry delicacies, ranging from football to two-pound trays. They make favors in various sizes for special events like weddings, conferences, and employee-wellness programs, all custom-made to suit the needs of the customer.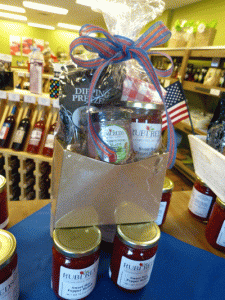 "We've sent them all over the country," said Berlyn. "It's a pretty popular thing because it represents Wisconsin."
Today, Rubi Reds has expanded into soaps, room sprays, candles, baskets, cheese knives and cutting boards. With cranberry harvesting underway, Rubi Reds can direct people to local marshes, and fresh cranberries are in stock in packages from 12oz to 10 pounds.
The store also sends out ingredients to make certain products. One such place is UW-Madison's Babcock Hall Dairy, which makes the store's cranberry ice cream. The flavor is only available at Rubi Reds and is sold in pints and quarts.
Customer input has played an integral part to the store's current selection, and the store has even partnered with some customers to provide a line of frozen pies, and meat items like brats, beef sticks, and breakfast sausages, as well as artisan bread on Saturday mornings.
"We keep finding more and more things," said Berlyn. "We always have something new."
Rubi Reds
4081 8th St S
Wisconsin Rapids, Wisconsin
(715) 712-0324
http://www.rubireds.com
Store Hours
Mon-Fri 9-4:30
Sat 9-2:00 p.m.
Closed Sunday