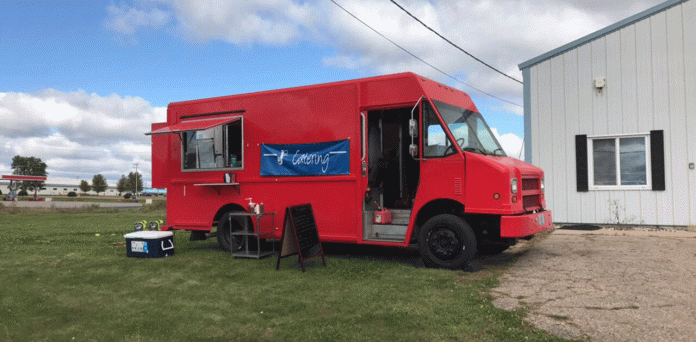 J² Catering Serves Up Homemade Fare
A red food truck has been popping up around Central Wisconsin, but you won't usually find brats and hamburgers on the menu.
Catering company J² Catering has been providing homemade-style fare to residents of Wisconsin Rapids, Marshfield, and Stevens Point since acquiring its bright red truck in May of this year. Stationing itself in industrial parks, by businesses, and at events like Lunch by the River and Third Thursdays this summer, the circulating menu has included their bestselling pulled pork, Philly cheese steak sandwiches, homemade mac'n'cheese, deep fried cheese curds, gyros, fries, and chicken tenders.
"We wanted something to be unique for the area, so we decided to do the food truck. It's worked out very well," said Joel Flewellen, who runs the Rapids-based business with his wife Julie while also working as a police officer full-time. "It's just something that the area needed, and people are responding."
The couple began the full-service catering business as a hobby in July 2015 with relatively no food experience. With a local article helping to get the word out, business began to pick up.
"The phone calls started and they haven't stopped since," said Joel.
Catering events like weddings, graduation parties, funerals, and reunions for groups large and small, it's now roughly fifty-fifty when it comes to food truck and catering duties.
"We're looking to expand to another truck next year, to go between Marshfield, Stevens Point, and Wisconsin Rapids on a regular basis," Joel said.
He said J² Catering's truck gives people more variety and an alternative to fast food. In places like industrial parks with no restaurants nearby, it gives people a fast option, and they can pay with cash, or credit and debit of all types.
"We try to keep the food truck menu different each week," said Joel. One week might see street tacos or a garden salad. "We try to stay away from hamburgers and brats because everybody does those."
For dessert, the food truck may have homemade brownies or cookies, but the catering side offers a whole range of loaded gourmet cupcakes in flavors like mint chocolate chip or Boston crème pie. A full list can be found at their website.
J² Catering is always looking for new places to set up and serve their homemade food. Eventually, however, the couple would like to open up a permanent restaurant in Wood County after Joel retires. In the meantime, they stay busy with the business and try to buy local whenever they can.
"I grew up in Wood County," Joel said. "I know it's important to keep small businesses alive."
J² Catering can be reached through their website, Facebook page (where they provide updates on stops), email jsquaredcatering@yahoo.com, or by calling 715-423-3450.