Located in the heart of Wausau, Red Eye Brewing Company serves up a flavorful meal in a classic brewpub atmosphere with a modern touch.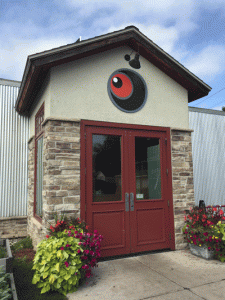 Inside, vintage bicycles suspend from the warehouse ceiling, the walls are painted red and green, and a screen advertises beers (including celebrations of new brews). Outdoor seating is available in a small enclosure off the building's front, surrounded by a tall fence wreathed with plants.
Although it's necessary to try a beer, we first get a house lemonade. It arrives in a jar with a handle and a wedge of lemon perched on the rim. It tastes like a shake-up at a fair concession, but more delicious and not at all bitter.
The drinks aren't served with a straw as part of Red Eye's environmental policy to cut back on plastic waste: Americans alone use 500 million straws daily, and much of it ends up in the oceans. However, a paper straw is available on request.
Our chosen pint of dark coffee beer arrives with a head of foam. One sip will remind that local beers have the best flavor. There are many beers at Red Eye, including guest beers from as far away as Germany or as close as Plover, WI, and of course their own house brews. A list can be found online at their website.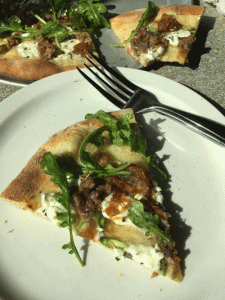 As for other drinks, the martini list is full of concoctions like cucumber cosmo and vanilla chai swirl, and "waterlemon" and autumn gypsy for the cocktails. A full list is presented on the table. Happy Hour is Monday through Friday from 3-6 p.m. Beers and house wine are $1 off with a different special each day.
After choosing from two different types of crust, our pizza order goes out and soon arrives in its wood-fired, artisanal glory. The pizza is, in a word, fantastic. The flavorful crust is topped with tangy goat cheese with bitter argula greens, and the combination works great.
For casual dining with comfort food that's also imaginative, give Red Eye Brewing Company a try. We have found a new favorite place in the Wausau area.
Red Eye Brewing Company
612 Washington St
Wausau, WI 54403
715.843.REDI (7334)
Open Mon-Sat 11 to Close