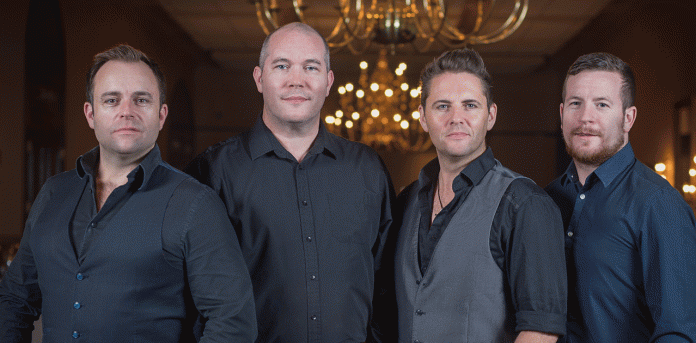 The High Kings to Visit the Tack
For nearly a quarter century, LuCille Tack Center for the Arts has consistently sold out shows that feature music of the Emerald Isle. From Titanic's party band, GAELIC STORM, to JURY'S IRISH CABARET, the rousing and reflective tunes performed by these groups strike a chord that resonates with almost everyone in Central Wisconsin.
In keeping with this tradition, the Tack signed THE HIGH KINGS, Ireland's PLATINUM Folk Band of the Year, to kick off the "wearin' o' the green" in March. This quartet of internationally acclaimed singers first exploded onto the Irish folk music scene in 2008.
They were introduced to American audiences on Public Television and have since sold out hundreds of shows in Ireland and across the US. Setting the stage for Central Wisconsin's Saint Patrick's Day celebrations, these accomplished singers and multi-instrumentalists will showcase their energetic sound of 'folk n roll', serving up laughter, good times and even the occasional sing-a-long at the Tack on Thursday, March 14 at 7:30 pm.
This stop in Spencer coincides with their DECADE Tour of the US that highlights their "Best
Of" compilation released in November 2017. The album includes brand new songs with a
spirited acoustic flavor, as well as the old favorites that brought them to the top of the world's Irish music scene.
If you remember THE CLANCY BROTHERS and THE DUBLINERS, or just consider yourself Irish for the day, the bonnie lads of THE HIGH KINGS will not disappoint. Rather, the lively show will ease your cabin fever and get your mind off the weather. Don't miss this opportunity to see THE HIGH KINGS live!
The performance is sponsored in part by the generosity of Tim & Marlene Ablett, Ron & Marcia Draeger, Bruce & Cathy Wineman, Wiskerchen Cheese, Wisconsin Public Radio and the Wisconsin Arts Board. Visit lucilletackcenter.com or call 715.659.4499 for more information.