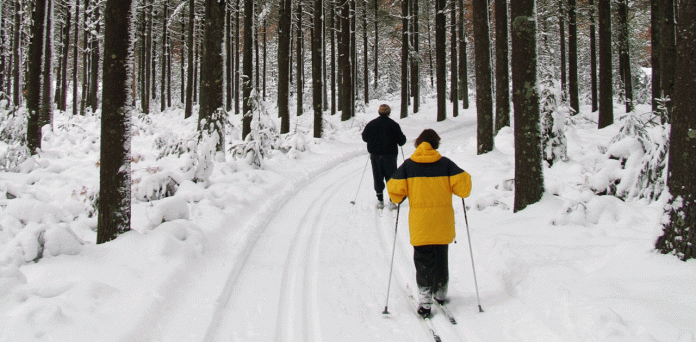 February 1, 2019
The Wood County Parks and Forestry Department would like to give public notice regarding our Winter Recreation Openings!
Snowmobile Trails: The SUNSET DRIFTERS snowmobile trails opened on Monday, January 28th at 3pm. Those are the only Wood County trails open at this time. All others will be reassessed after this weekend's warm weather.
Powers Bluff: OPENS TOMORROW, February 2, 2019 at 10am (Saturday & Sunday). Weekends Only.
*TUBING HILL RULES
1. Tube ticket required. Tubing during tow operating hours only.
2. Only tubes provided may be used. No outside tubes, sleds or other devices allowed.
3. Only one (1) person allowed per tube. We recommend that users be at least 42" tall.
4. Young children must be supervised by an adult at all times.
5. No chaining up.
6. Allow tuber in front of you to reach the bottom of the hill before starting.
7. Once your tube stops, immediately look up the hill for oncoming tubes, and remove your tube from the tubing lanes.
8. Loose clothing and long hair must be tucked in prior to using the tow line.
9. USE OF TUBE HILL IS AT YOUR OWN RISK.
1st Session: 10:00 a.m. to 1:00 p.m. – $10.00 per person 2nd Session: 1:00 p.m. to 4:00 p.m. – $10.00 per person All Day Pass: 10:00 a.m. to 4:00 p.m. – $15.00 per person Downhill Skiing & Snowboarding
One Session: 10:00 a.m. to 4:00 p.m. – $10.00 per person
Cross Country Ski Trails: The Nepco trails are open and in poor condition. We hope to have those improved in the next couple of days. The Richfield 360 ski trails are open and in great condition. The new Powers Bluff trail has been packed and tracked as well.
Please check our website, Facebook or Instagram pages, or Travel Wisconsin for updated opening and closing information.