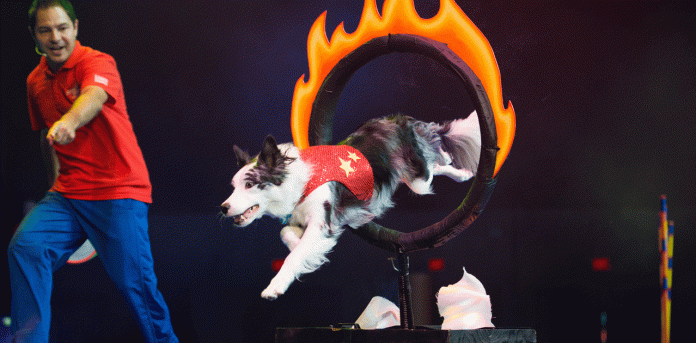 Dogs Will Perform Stunts and Interact with Audience
EXPLORE – From Dollywood and Branson, to NFL halftime fields and television talk show sets, the stars of Chris Perondi's Stunt Dog Experience will have you cheering, and leave you charmed, with their "doggone" antics and athletic feats. With more than a dozen canine daredevils rescued from pet shelters across the country, these playful pooches and their trainers will treat you to two incredible shows at Spencer's LuCille Tack Center for the Arts on Sunday, April 29. Beginning at 2:00 PM and 7:00 PM, these performances are worth keeping your kids up past their bedtimes and will put a smile on the faces of children of any age, 5 to 100.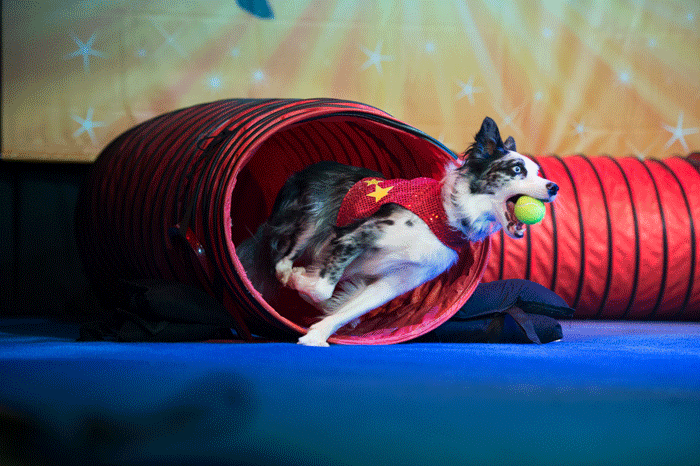 In addition to big air tricks, breathtaking stunts and doggie dancing, expect audience interaction with kids on stage and tips from Chris for training your own pets. A pre- and post-show "sniff and greet" will allow ticket holders to give a dog a pat as they pass by.
One of the most sought after and highly regarded productions in the industry, Chris Perondi and his family have entertained millions in more than 8000 shows since 1999. His performances in Spencer are part of an annual cross-country spring tour which fills quickly with eager theatres that consistently sell out. These shows at the Tack are the only ones in Wisconsin this season and should not be missed! Check them out online at stuntdog.com.
Not all animals are as blessed as those who will appear on the LTCA stage, so consider bringing an item or two for the Marshfield Area Pet Shelter when you come to the theatre. Volunteers from MAPS will be delighted to accept your donation of pet food, cat litter, paper towels and cash to help support the less fortunate four-legged critters in our area.
The Stunt Dog Experience is sponsored in part by the generosity of Joe & Kathy Burnett, Bruce & Cathy Wineman, Wise Mind Mental Health Clinic, Ron & Joyce Wiskerchen and the Wisconsin Arts Board. Tickets are available online at lucilletackcenter.com or by calling 715.659.4499. The LuCille Tack Center for the Arts is located at 400 School Street in Spencer. To purchase tickets in person, access the box office at the same address, door #22, on Wednesdays and Fridays from 10 a.m. to 4 p.m.