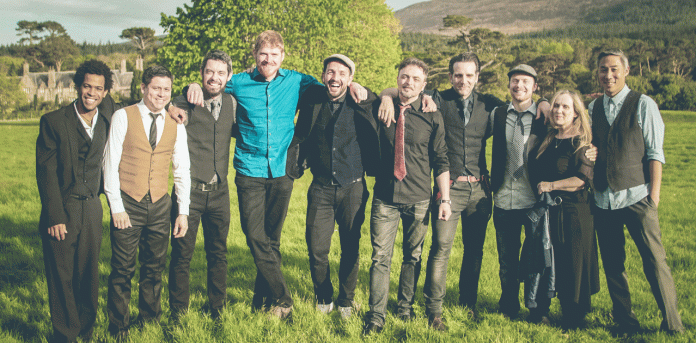 Ireland-Based Band Comes to Lucille Tack Center
A tag-on to the LuCille Tack Center's performance season, this Ireland-based band brings together a mix of nine world-class musicians from seven different countries to deliver a distinctive blend of Latin rhythms and traditional Irish music – a fusion which they call "Salsa-Trad." Stretch out your spring weekend with Baile An Salsa as they spice up your night, beginning at 7PM Sunday, May 6 at the Tack in Spencer.
Seamlessly blending their influences from Latin America, Europe and the United States, the band creates a contemporary twist of traditional tunes with original compositions. Vocals in English, Spanish and Irish, provided by the band's founder, Andres Martorell, meld with the group's vibrant combination of instruments, creating a full, rich sound.
Baile An Salsa have enjoyed popularity worldwide since forming in 2012 in Galway, Ireland. Their self-titled debut EP received airplay and rave reviews in Ireland and as far away as Poland, South America, Singapore and China. This success was quickly followed by live television and radio performances on national Irish stations.
Their positive message of diversity and unity contributes to their growing appeal, which allows the band to perform at a variety of cultural gatherings, thrilling big crowds at concerts and festivals in Ireland and the USA. Powerful and engaging, Baile An Salsa's energetic stage performance makes it nearly impossible for their audience to stay seated!
Baile An Salsa recently combined several Latin styles, Irish trad and a bit of funk on their second full length album. Created in collaboration with multi-Grammy winners Walter Flores (Producer) and Felipe Tichaeur (Mastering Engineer), Ériu recently appearing on Amazon UK's Top Latin Album list. Baile An Salsa travels from Galway, Ireland to share the new album at shows across the Midwest.
Tickets for Baile An Salsa are available online at lucilletackcenter.com or by calling the box office at 715.659.4499.