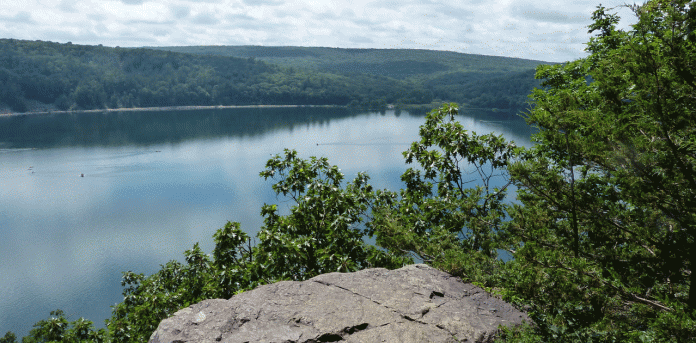 Devil's Lake a Popular State Attraction
Spanning 10,000 acres and welcoming nearly three million visitors per year, Devil's Lake State Park in Baraboo is a popular hiking, camping and recreation spot bursting with natural beauty year-round.
Lined with towering bluffs, the 360-acre lake is a great spot for kayaking (rentable), swimming (try the pet-designated area for your furry friend), and stand-up paddle boarding on the north and south beaches. Bring a picnic lunch or purchase food and drinks from the concession buildings, and browse for a couple souvenirs or camping items that were forgotten.
Twenty-nine miles of hiking trails offer scenic views with various levels of difficulty. Despite the popularity of the park, solitude and a wilderness experience can be found on the different hiking trails and in nearby natural areas and preserves: Baxter's Hollow, McGilvra Woods, Lower Narrows, and more are just a short distance away and offer their own nature experiences. Part of the Ice Age Trail also travels through the bluffs.
The freezing and thawing of glaciers 8,000 years ago helped create Balanced Rock and Devil's Doorway on the East Bluff. These signature features are found on the trails named after them on the east side of the lake. Rock stairs (fairly difficult) lead up the bluff and offer great views of the lake below. Celebrate the ascent with a photo opportunity by the Doorway.
There are plenty of things to try while visiting the park. Try fishing for a walleye, rock climbing on the quartzite rock cliffs (see website for guide and outfitter information), and biking eight miles on the Upland Loop. In the winter, snowshoes and ice fishing equipment can be checked out for free. Check out a GPS unit and search for the park's geocaches, waymarks, and earth-caches: Ask for the self-guided historical GPS tour at the Nature Center.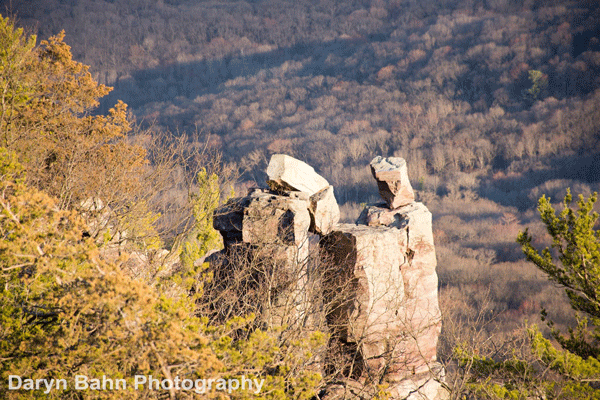 The area boasts plenty of wildlife. Raccoons and deer roam, bats eat mosquitoes above the lake in the sunset, bobcats and foxes leave their prints. Take a closer look: that vulture in the sky may actually be a bald eagle!Devil's Lake hosts plenty of free nature programs throughout the year. The topics range from owls and bats, to kayak tours, creating nature art, astronomy, and geology. The full list can be found online or in the visitor's guide. Some activities are dependent on the weather.
The park has a rich and enigmatic history. In use well before it was designated a State Park in 1911, remnants of its geological past (it was once covered by an ocean!) and ancient peoples can still be seen.
Around 1,000 years ago, a mysterious group of Native Americans active in the region built effigy mounds in the shapes of animals, ridges, and circles. Hardly anything is known about the Effigy Mound Builders, but several examples of their work can still be seen in the park: lynx, bear, and bird-shaped mounds are marked by plaques.
In the absence of wheelbarrows and shovels, one can wonder at the organization and hard work of this lost people, and wonder what mysteries we will be leaving for future generations. For more effigy mounds, the Kingsley Bends Indian Mounds on Highway 16 is just a twenty mile drive from the park.
In more recent history, saw and grist mills were formed in the nineteenth century in nearby Parfrey's Glen, today a favorite hiking spot and a State Natural Area on the far east side of the park. These were dismantled eventually, and the Glen's fragile ecosystem is now protected. Moss-covered walls and a trickling creek make up the scenic beauty. Follow the posted rules to maintain the natural growth of plants and habitat, and leave no trace to preserve the spot for future generations.
Hotels sprung up on the lakeshore from 1866 to about 1904, and visitors would arrive by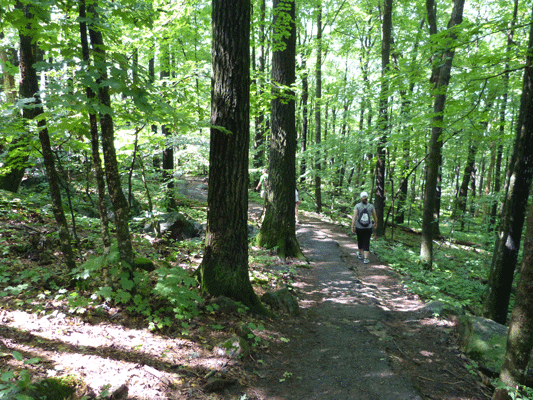 steam train for a getaway. There were vineyards, bands, restaurants, and even masquerade balls.
Two decades after the park's formation, the Civilian Conservation Corp (CCC) was created for men ages 18-25 to find employment during the Great Depression. One of the 26,000 camps was located in the park. Together, the workers hand-built trails and stone stairs that are still in use today.
For information on events, camping, and much more, visit the Devil's Lake park website.
Resident Day Pass: $8
Devil's Lake State Park is open year-round from 6 a.m. to 11 p.m. Visitor Center hours are generally:
Summer – 8 a.m. to 11 p.m. daily
Fall and Spring – 8:30 a.m. to 4 p.m. daily, plus later on Friday nights, Saturdays and Sundays
Winter – 8:30 a.m. to 4 p.m. daily
The Nature Center hours are 9 a.m. to 4 p.m. daily in summer. The Nature Center will be open limited days after Columbus Day weekend in early October.