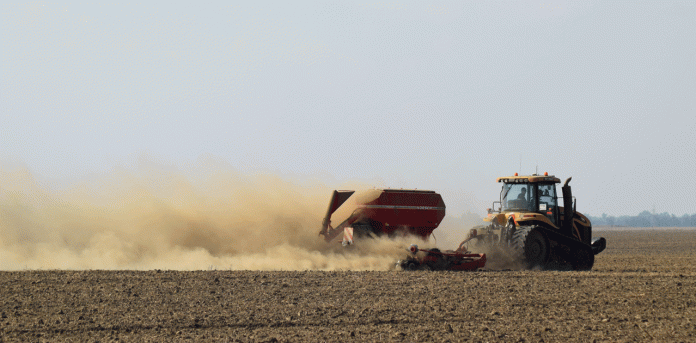 Local residents, Daryl and Brenda Sternweis, Ken and Joellen Heiman, Kelvin and Marilyn Heiman and their families will host the largest agricultural show in Wisconsin in 2018 as Wisconsin Farm Technology Days comes to Wood County.
By Michelle Tesmer – Ahhh, open your windows and enjoy the smell of country air! Oh wait, what just wafted through that window is the smell of fresh manure. While not as pleasant a smell as the laundry drying outside, the importance of manure is often not thought of. Not only an animal byproduct, it helps sustain the land for years to come.
Manure is an organic material that is 100% animal waste. Manure contributes to the health of soil and is a reusable resource. Manure is economically friendly and plays an important role in a farmer's day to day life.
"It's natural," said Ken Heiman. "Returning nutrients back to the soil where it can be used again. Our farm uses a manure lagoon to house all of our manure and then inject the manure back into the soil at designated times during the year based on the protocols of a Nutrient Management Plan that was designed by crop and soil experts."
As many will see firsthand at Farm Technology Days, improvements are made every year in manure hauling methods and spreading. Heiman said his farm uses special equipment that doesn't require the use of roads to haul, thus saving those roads from wear and tear.
"The education about different practices has led our farm to use special equipment to knife in the manure. By doing this, we actually have less soil disruption and maintains a healthier soil bed for the insects, worms and good bacteria. We use pumps, hoses and pressures to be more environmentally friendly."
In Wood County, the manure sustains a number of crops. Heiman stated that more cranberries are harvested here than in any other county in the state. Christmas trees, a variety of fruits and vegetables, and floriculture, also thrive in the area.
Sustainability is always a conscious thought when it comes to taking from and giving back to the land.
"I want our land and water to not only take care of this generation but also be clean and plentiful for many more generations. We want people to see what farming today is like: It's one of the reasons we are opening our farm for Farm Technology Days next year," said Heiman. "We research new products and implement technology where it makes sense."
Heiman wants people to come out during Farm Technology Days, to see the farm and the care that goes into it. "We want them to see what is required of a family to farm together every day and how farming has changed over the years. We want people to see everything from new products to new technology. We also want to highlight everything Wood County and the surrounding area has to offer," he said.