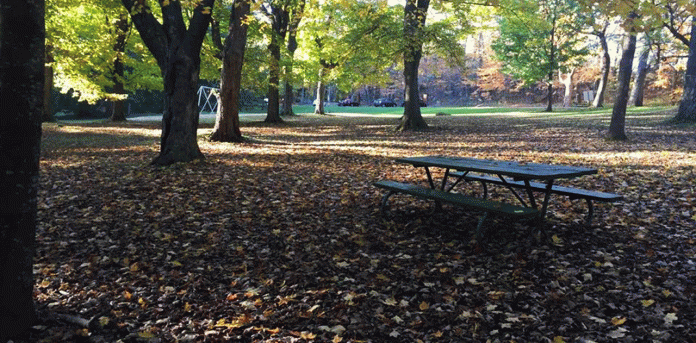 County Park an Important Cultural Location
While it's known for its tubing hills during the winter, Powers Bluff also offers a quick, scenic tour of the fall colors.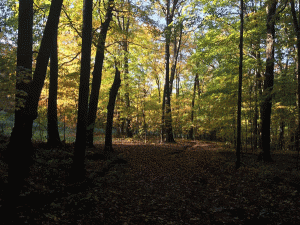 The park located southwest of Arpin is the 13th highest elevation point in Wisconsin. Ride up the hill and park, then check out the top of the nearby tubing hill for a breathtaking, high-elevation view of the distant fall colors. In the winter, the hills are used for downhill skiing, snowboarding, and tubing.
Worth a trek is the 1.25 mile self-guided nature trail and a 1.3-mile hiking/ski trail. The forest surrounding these trails are beautiful and feels untouched. Near the parking area are the striking stone outcrops made up of quartzite, covered in moss and dusted with colorful leaves in the fall. In a region that seems mostly flat, the tall outcrops are an interesting sight to see. Powers Bluff is a worn-down mountain range that once covered northern Wisconsin.
Following the hike, a small playground is perfect for kids to play after a picnic at one of the many picnic tables situated in the shade of colorful trees.
Also be sure to stop and read the history of the region. A culturally significant location, Powers Bluff was the home of three Indian tribes: The Potawatomi, Chippewa, and Winnebago. The park marks the location of an Indian dancing ring, where ceremonies were held in early Spring. Burial grounds are preserved near the park exit. The tradition of the Potawatomi was to build a "grave house" over each grave. These small houses were meant to deteriorate.
Currently, Powers Bluff is in the midst of a development project that will see a new multi-use shelter building, cross-country ski trails, 3-acre fishing pond, playground equipment, and ice skating rink. The campaign is expected to run through 2018.
Address:
6990 Bluff Dr.
Arpin, WI 54410