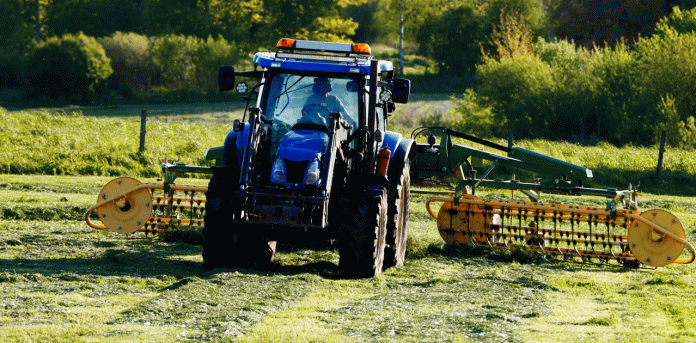 Farming Important for Overall Economy.
by Michelle Tesmer – Local residents Daryl and Brenda Sternweis, Ken and Joellen Heiman, Kelvin and Marilyn Heiman and their families will host the largest agricultural show in Wisconsin in 2018 as Wisconsin Farm Technology Days comes to Wood County.
Living in the midst of a farming community, the importance of what farming does for the area is often overlooked. "Wood County represents just over 200 of the 9,000 dairy farms in Wisconsin, including our own dairy farm where we are turning fluid milk into cheese along with bottled milk and some other products," said Ken Heiman.
"We make an average of 170,000 pounds of cheese each day in addition to the milk. The byproduct of cheese (whey) is broken down even further into protein, lactose and cow water. These dairy products travel across the country to feed people in small towns and major cities."
By providing food, agriculture is the basis of civilization and survival. To go along with that, farming also has a positive impact on the environment in which we live. Heiman said that farmers are the original conservationists and act as Mother Nature's right arm by taking care of the land and water.
"In many ways, farming helps to clean the environment. We've learned more about the land, soil and water and have used that education through the years to improve the way we farm and conserve what Mother Nature gives us," said Heiman. "Farmers are stewards of the land. Where once you may have seen decaying grass or rotting wood, farmers have cleaned it up and helped to make the land productive by growing feed for our animals."
He added that farming is a recycling project: a seed planted is grown and harvested, fed to animals, and then those nutrients are returned to the land to continue the growing cycle.
The economic impact of farming has a profound effect in the area. "In Wood County agriculture contributes more than $980 million to the local economy." said Heiman. "In fact, 11.6% of the county's total economic activity is derived from agriculture. It's an important part of the culture here."
Providing employment opportunities also directly affects the local population. Milking cows and feeding animals often come to mind as do herd managers. Veterinarians are needed for overall herd health and to treat the sick or injured.
Heiman said a closer look reveals even more job options. "You have a crop manager, a shop manager, a milk hauler, an accountant, maybe someone in human resources. We also work with other businesses for resources or advice. This could be our local banker, a cow nutritionist, a foot trimmer for the cows, a representative from a sanitation company, a certified crop specialist or soil specialist, just to name a few."
Heiman added that once the milk leaves the farm and goes to the dairy plant, the jobs grow even more. "There is someone there who checks the milk quality, another sanitation specialist, people who make the products, package, transport and store the products. If you think about the food chain from there, it really is far-reaching. We haven't even touched on the people that design and build the equipment used on farms. I really think the list is endless!"
By making a living for themselves and other, farmers view their livelihood as a blessing.
"It's all about admiration that farmers have for family, cows and land," said Heiman. "Farmers have unbelievable love for those."