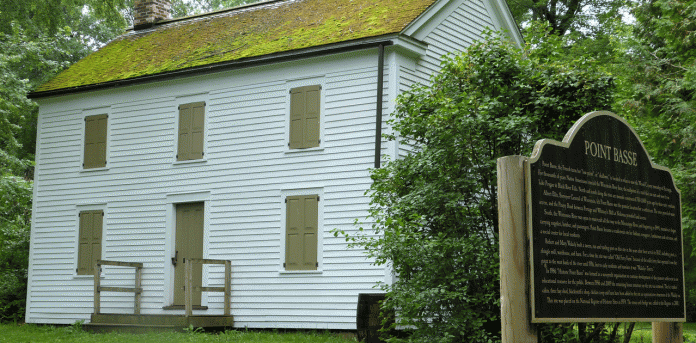 Wakely's Winter Feast Features Food and Dancing
Submitted to Explore – Robert and Mary Wakely, early Central Wisconsin pioneers, were noted for their mid-winter parties held at their hotel located along the Wisconsin River, just south of present day Nekoosa.
Today, the Wakely's home is open as a living history center called Historic Point Basse. The Citizens of Point Basse, volunteers who operate the site are keeping many of the early traditions alive, including a fun filled dinner and dance called Wakely's Winter Feast.
The 2018 event will be held on February 17th from 4-8 p.m. at the Nekoosa Area Senior Community Center. The evening will begin with the gathering, from 4 until 4:45 an informal time to enjoy some hot cider and snacks and renew old acquaintances and make new ones. At 5:00, a home-cooked pioneer feast featuring domestic and wild game dishes will be served, including bread pudding for dessert. The evening will also include music and dancing.
Tickets are $20.00 in advance and $25.00 at the door and are available at Family Natural Foods, Country Freckles and Beavers Variety Store or from any Citizen of Point Basse.
Schedule:
4pm, Gathering: Sausage, Cheese, Crackers, Apple Cider, conversation and a small program
5pm, Home-Cooked Pioneer Feast
4:30, Music: Music will be played until dinnertime. There will be entertainment by
an eight-piece band playing traditional music. After dinner, they will continue to perform along with a couple of skits. There will be dancing, stories, and singing.
Tickets:
Feast and Cotillion $20 in advance and $25 at the door.
Tickets can be purchased at:
Family Natural Foods
Telephone: (715)423-3120
Located at 910 West Grand Avenue
Wisconsin Rapids, WI 54494
Country Freckles
(715)424-5756
Located at 1010 8th Street South
Wisconsin Rapids, WI 54494
Beaver's Variety Store
(715)886-4371
Located at 410 Market Street
Nekoosa WI 54456
For further information call (715) 459-1722