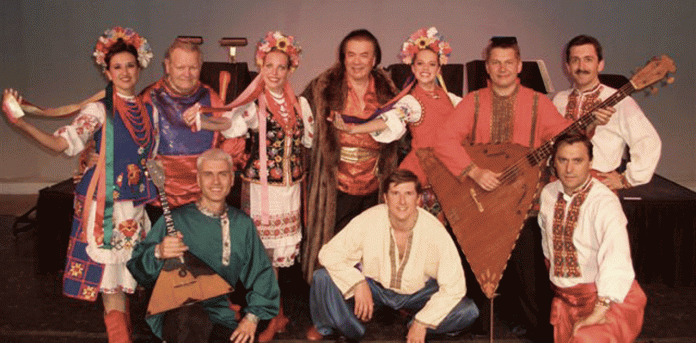 Song and Dance Part of Cultural Show
Submitted to EXPLORE –
Scroll back to January 26, 1996.
The newly built and nearly completed LuCille Tack Center for the Arts was presenting its first show ever. Ready to perform was the Russian Balalaika Orchestra on the final leg of its first US Tour. When called to alert them to the snowstorm expected to hit just before show time, they said they'd be there even if they had to put a plow on the bus. For them, and the several hundred who came by snowmobile, skis and vehicles destined to spend the night in a snowdrift, it was surely a night to remember!
In the past twenty-two years, this will be the third time Russian heritage has found the spotlight on the Tack Center's stage. Helping renew the deep bond between Central Wisconsin audiences and the essence of this culture, Massenkoff Russian Folk Festival will perform at Spencer's LuCille Tack Center for the Arts on Sunday, February 11 at 2:00 p.m
In this spectacular performance of songs, balalaika music and folk dance, all are equally represented in authentic Russian style, language and costumes. The Company features musicians who are conservatory graduates, professional Russian dancers and renowned baritone, Nikolai Massenkoff. Both Tsarist and Contemporary Russia hold influence over the music, which is further colored by the neighboring countries of Ukraine, Armenia, Georgia and Moldova. Don't miss this nostalgic and exhilarating celebration of Russian tradition!
This performance is being sponsored in part by: Bill & Linda Bauer, Steve & Carol Hemersbach, Bruce & Cathy Wineman, Wisconsin Public Radio and the Wisconsin Arts Board.
Tickets are available online at lucilletackcenter.com or by calling the Box Office at 715-659-4499. Tickets can also be purchased in person by accessing the Box Office at 300 School Street using Door #22 on Wednesdays and Fridays from 10 a.m. to 4 p.m.