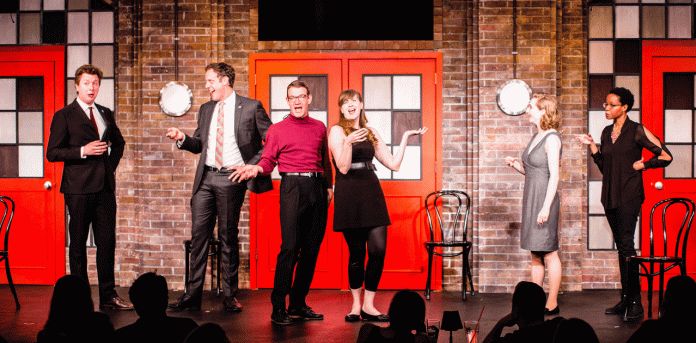 Sketch Comedy Theater Origin of Superstars
Submitted to Explore – John Belushi, Dan Aykroyd, Mike Myers, Tina Fey… What do all of these people have in common? Besides being synonymous with Saturday Night Live, they all got their start at the Second City.
Since opening its doors in Chicago on a snowy December night in 1959, the Second City has become one of the most influential and notable sketch comedy theaters in the world. The theater is internationally known for its ever-increasing roster of comedy superstars, producing household names like Bill Murray, John Candy, Gilda Radner, Stephen Colbert, and Steve Carell.
But you don't have to travel to Chicago to see this legendary improv group. The next crop of comedic geniuses is coming to Spencer's LuCille Tack Center for the Arts on Saturday, January 13, 2018 at 7:30 p.m.
The Second City Touring Company's, "Look Both Ways Before Talking" is a must see night of comedy featuring some the nation's best and brightest comedians. Edgy, thought-provoking and always spectacularly funny,​ The Second City is celebrating nearly six decades of producing cutting-edge satirical sketches that launched the careers of generations of comedy's finest. Noted touring troupe alumni include Julia Louis-Dreyfus and Amy Poehler. You never know who you're going to see as the LuCille Tack Center brings us the "next big thing" in this uproarious show.
So turn off the SNL and Who's Line Is It Anyway reruns and come see the real-deal. Only the cream of the comedy crop, the Second City is the best night of cutting edge comedy you can find!
May contain adult language and content.
This show is sponsored in part by the generosity of: Progressive Travel, Tim McCluskey & Celeste Jackson, Bill Mork & Mary James Mork – Marshfield Furniture, Wisconsin Public Radio and the Wisconsin Arts Board.
Tickets are available online at lucilletackcenter.com or by calling the Box Office at 715-659-4499. Tickets can also be purchased in person by accessing the Box Office at 300 School Street using Door #22 on Wednesdays and Fridays from 10 a.m. to 4 p.m. Premium seating is available for this performance.