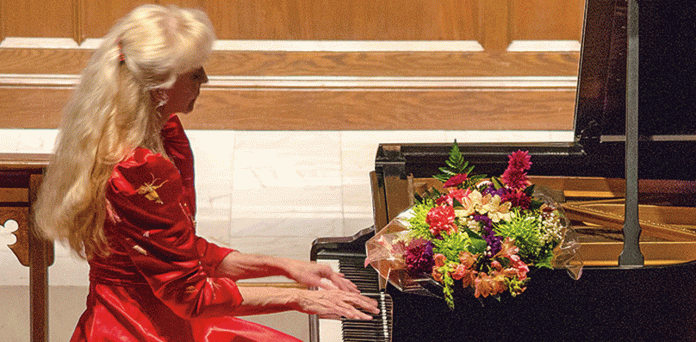 Renowned Pianist to Celebrate Music of the Reformation
Submitted to Explore – Nearly 21 million people in the United States play piano. Whether you are one of those 21 million, or just enjoy listening to someone else tickle the ivories, you owe it to yourself to abandon the holiday bustle and, instead, luxuriate in the magnificence of Bach and Liszt, as performed by internationally acclaimed pianist, Teresa Walters, on Sunday, December 10 at 2:00 p.m. in Spencer's LuCille Tack Center for the Arts.
Her concert celebrates the 500th anniversary of Martin Luther's Reformation and each of the works she'll perform in some way honor this major and historical event. Beginning with music of Johann Sebastian Bach, one of Protestant music's most famous names, she'll continue on with Liszt's interpretations of some of Bach's greatest chorale tunes, ending with a work by St Francis of Assisi. In addition to her stunning musical talent, Walters is known for her sparkling remarks before each piece, which allow the program to be meaningful and inclusive for everyone.
Recognized for her commitment to music as the ultimate universal language, Teresa Walters believes, "that great music must remain as one of the pillars on which civilization rests, and that music has the potential to bring out the best in all of us."
Whether you're one of the 21 million who still play, or one who stopped practicing their piano lessons many years past, you will likely leave her performance more uplifted and refreshed than when you sat down. Indeed, The Washington Post stated that Walter's "hands create cascades of luminescence," exactly what we're searching for during the darkest days of the year.
Walters grew up in the Midwest, received her doctorate from Peabody Conservatory of Music in Baltimore, studied at the Paris Conservatoire and now lives near New York City. She has performed on six continents, nearly all fifty states and her many awards and distinctions qualify her for the "top tier of piano soloists in the world."
Her performance is being sponsored in part by: Bill & Linda Bauer, Gosse Chiropractic, The Family of Susan Hornick, Wisconsin Public Radio and the Wisconsin Arts Board.
Tickets are available online at lucilletackcenter.com or by calling the Box Office at 715-659-4499. Tickets can also be purchased in person by accessing the Box Office at 300 School Street using Door #22 on Wednesdays and Fridays from 10 a.m. to 4 p.m.