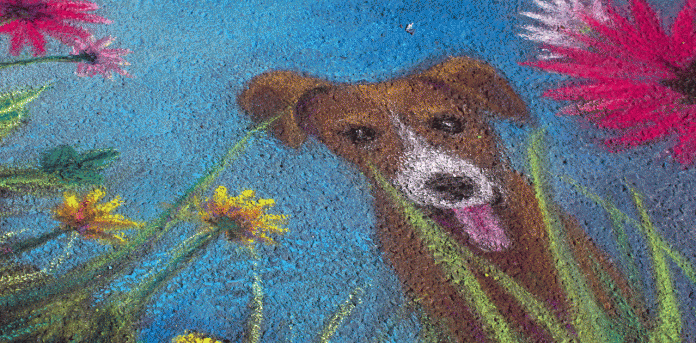 Explore Chalk Masterpieces in Downtown Wausau
A comic book cover. A Disney princess. A roaring lion.
These are a few things someone might see when wandering around downtown Wausau July 15-16. Since 2004, Chalkfest has transformed 400 Block into a colorful outdoor art gallery, featuring the talents of artists new and established.
Watch chalk masterpieces inspired by pop culture and the imagination unfold as 380 registered sidewalk artists take up their pastel chalk and paintbrushes beginning Saturday at 8 a.m. until 9 p.m.
The following day, artists finish up their solo and group creations in time for the judging from 1-3 p.m. The winners, ten minimum (including Honorable Mentions), are selected by participating artists and will be announced along with awards from the 400 Block stage around four.
The centerpiece, a circle where the paths meet in the middle of the square, will again be the canvas of local artist Emily Voss of Voss Studios. As a lover of portraiture, Voss selected photos by professional photographers for a Facebook vote. The winner was "Raining Again" by PortraitsbySam.
Kids under twelve are free to practice their skills too. Purchase a box of colored chalk and oversized chalkboard for $3 or a set of twelve pastels and paper for $10. The Children's Chalkfest runs Saturday from 9-5 p.m. and Sunday 10-4 p.m. Paper projects can be taken home, and the chalkboard art will be displayed near the children's area on the grass.
Park for free at the Jefferson Street Ramp, McClellan Street Ramp, JC Penney (west mall) Ramp and the Sears (east mall) Ramp, located near the Chalkfest site. A shuttle service will be circling through Chalkfest, Sidewalk Sales, and Balloon and Ribfest (near the Wausau airport). On Saturday, the bus runs from 11-11 p.m.
Chalkfest is a colorful addition to the weekend lineup. Come and see what the artists are drawing while taking part in Wausau's Big Weekend.