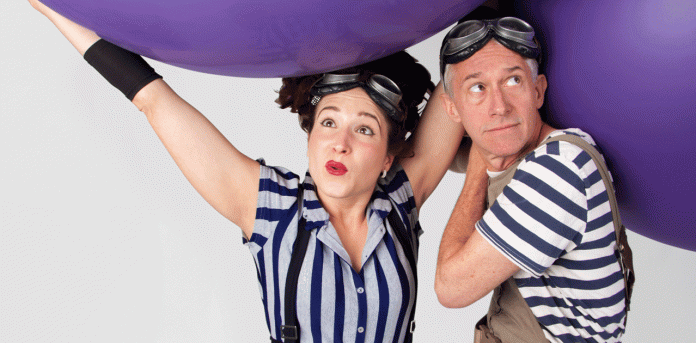 Kamikaze Fireflies Performed on America's Got Talent
Submitted by Lucille Tack Center – Most people have never known anyone who has taught himself to eat fire. It's not surprising, though, to learn that creating and doing new things is the motivation that nudges Rob Williams out of bed every morning. That need to create eventually led Rob to combine talents with acrobat Casey Martin. Together, they launched Kamikaze Fireflies, a dynamic duo that Howie Mandel has praised as "…dangerous…exciting…funny!"
A special performance of the LuCille Tack Center's student-focused Arts Adventure Series will feature the Kamikaze Fireflies on Friday, January 26 at 1:00 p.m. The sixty-minute performance of hilarious routines, physical impossibilities, unbelievable situations and crowd interaction will have audience members from 7 to 70+ on the edge of their seats wiping tears of laughter.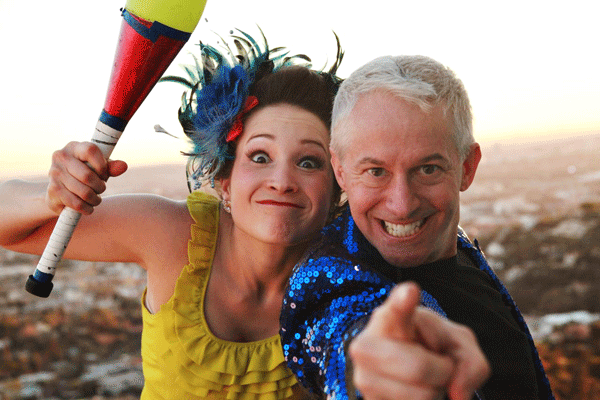 The show is a mix of comedy and circus with juggling, hula hoops, German wheel, whip cracking and many tricks never seen anywhere else. Highly imaginative and hugely creative, Kamikaze Fireflies offers a live, unique and intriguing experience that allows its viewers to go beyond the boundaries of their usual electronic environment and into the grand "what if…?"
Kamikaze Fireflies was not the beginning of Rob Williams' career. He first created The Flaming Idiots which toured the world for twenty years. As part of The Flaming Idiots, Rob went from living in a van doing street performances all over America to performing in four separate runs on Broadway in New York City.
Casey has been working as a professional acrobat and variety performer for over a decade. She graduated summa cum laude from Westchester University with a degree in Education. After a move to Los Angeles, she immediately began getting cast in film, television, commercials and music videos. Martin can be seen all over the world breathing fire in a California Tourism commercial starring William Shatner.
It was renaissance festivals, however, that gave them the opportunity to see live variety entertainment and the chance to get their feet in the door. After a huge success on America's Got Talent, the Kamikaze Fireflies heard from the world of cruise ships and recently completed multiple dates on the Crown Princess. While corporate events fill their winters and theaters and festivals fill their summers, they still find time to be avid home cooks and to produce comedy sketch videos with their friends from America's Got Talent, Dustin's Dojo. Visit their website at kamikazefireflies.com for a peek at their breathtaking skills and unusual talents.
General admission tickets for the public can be purchased at the LTCA Box Office Wednesdays and Fridays between 10AM and 4PM or at the door. Tickets for this show are not available online. The Box Office is located at 300 School Street in Spencer, Door #22; the theater is only a few steps north at 400 School Street, Door #20. For additional information, call 715.659.4499.
The LTCA's Arts Adventure Series is sponsored in part by the generosity of: Stratford Signs, the Loyal Car Show, Spencer PTA and the Wisconsin Arts Board.