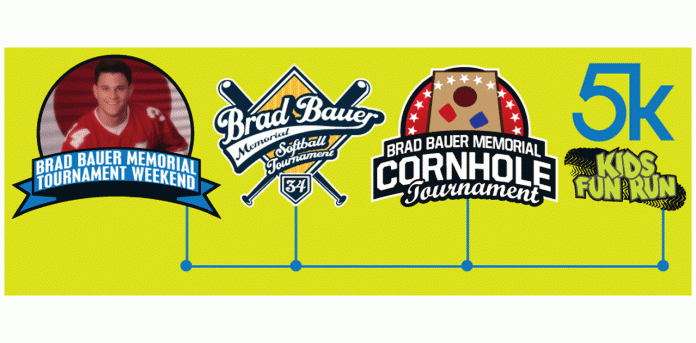 Proceeds Benefit Community Athletics
Celebrating sixteen years, the Brad Bauer Memorial weekend in Spencer returns for its annual weekend of tournaments and family fun.
Brad Bauer Memorial honors the memory of Brad, a youth football coach who was only 23 when he was killed in an automobile accident in 2002. Sixteen years after the first softball tournament, the Spencer community continues to gather together for a full weekend of activities including the 5k and kid's runs, and cornhole, softball, and volleyball tournaments.
Headed by the nonprofit Spencer Community Boosters (SCB) organization, this year's festivities will take place from Aug. 17-19 at ARC Park.
Events will include a 5K with the route beginning and ending at the park, the less competitive 2-mile, and a kids fun run. There will also be cornhole, volleyball, and softball tournaments. The Kids Zone will include face painting and bouncy houses, a hoola hoop and dance contest. Adults can try their hand at the chipping contest and check out the new raffles.
Proceeds from the event benefit youth and community athletics in Spencer. Last year, $14,000 was donated to various organizations including Brighton Rec-Neps, St. John's Youth Group, Spencer Kids Group, and Brad Bauer Memorial. Last year's event allowed the Booster Club to bring in sand for its field, upgrade the park sound system, and purchase jerseys for the basketball and baseball programs.
This year, the club was able to add a youth volleyball program and are evaluating programs for youth softball, said Becky Gorst, Board President. A goal for the club is to offer volleyball and softball to elementary-aged children. The club also debuted a Volleyball Camp and will add a league this spring after basketball season if there is enough interest.
Plans for a community center are currently on hold as the Booster Club awaits the results of the upcoming Spencer School referendum next spring, which would allow funds to be invested to other areas.
"The referendum meets all of the goals and expectations we had for a center and if passed, we will review our goals and find other areas to invest into youth programming," said Gorst. "This year, we expanded into youth volleyball, and there are several other needs that could be met if the referendum passes that we are excited to tackle."
Through this year's event proceeds, the Booster Club plans to make park upgrades, such as more sand, new or refurbished bleachers, and picnic tables. For a number of years the park was not invested in, but between the club and the Village of Spencer, major strides have been made.
Register or find more info at spencercommunityboosters.com.