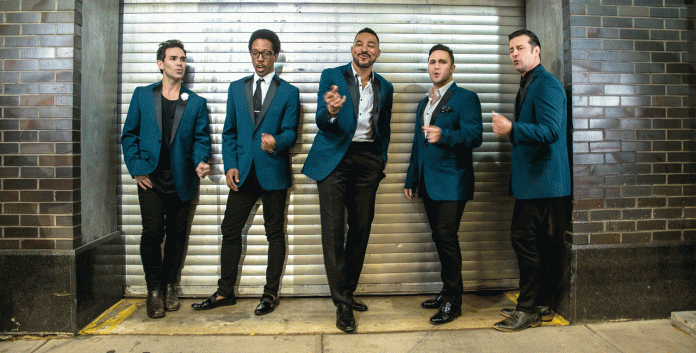 Explore – Doo Wop. What is it? If you're of a certain age, or even if you only know someone of a certain age, chances are you've heard doo wop music, may even LOVE doo wop music without realizing what it is. How about these songs: "Sherry," "I Only Have Eyes for You," "Oh, What a Night!" Come on! You know the melody, all the words and some of the harmony parts, too, don't you? Then you MUST treat yourself to The Doo Wop Project at the Tack on Saturday, December 8 at 7:30PM.
Five fabulous singers will be crooning and bopping to these classic doo wop hits and more just like them from the 1950's and 60's. The guys are fresh from New York and have starred in The Jersey Boys and Motown: The Musical, as well as other Broadway productions. In their snazzy sport coats and ties, they'll be backed up by a stellar five piece band that will add another layer of sparkle to an already sunglass-worthy event. Trust us; we know. We've seen them wow an audience and bring them to their feet in only twenty minutes. Imagine how exciting a ninety-minute show will be!
If that sounds good, you COULD catch a night of The Jersey Boys as it crisscrosses the country on a national tour.
Instead, call the Tack Box Office or go online and get your seat to The Doo Wop Project. Spencer, just a neighborhood away, is an easy trip. Make a night of it by going out for dinner beforehand and stop at a local watering hole for a nightcap afterward. You could go all out and choose a "premium" seat in the first four rows – a great early Christmas present!
And remember! Experiences make unforgettable gifts. So when you're grabbing YOUR ticket, pick one up for your honey or your best bud and give them a gift of music, memories and sheer enjoyment! They'll adore you even more!
The Doo Wop Project is sponsored in part by the generosity of: Burnett Transit, Carol & Steve Hemersbach, Bill Mork & Mary James Mork – Marshfield Furniture, Progressive Travel, Ron & Robin Safford, Humberto & Debbie Vidaillet, Anne & Duane Teska, Wisconsin Public Radio and the Wisconsin Arts Board.
The Tack Box Office is open Wednesdays and Fridays between 11AM and 2PM, but closed the week of Thanksgiving. Located at 300 School Street, Door #22 in Spencer, you may purchase tickets in person or by calling 715.659.4499. Leave a message at any time and a volunteer will call you back. Visit lucilletackcenter.com to select your seats and buy tickets online 24/7.