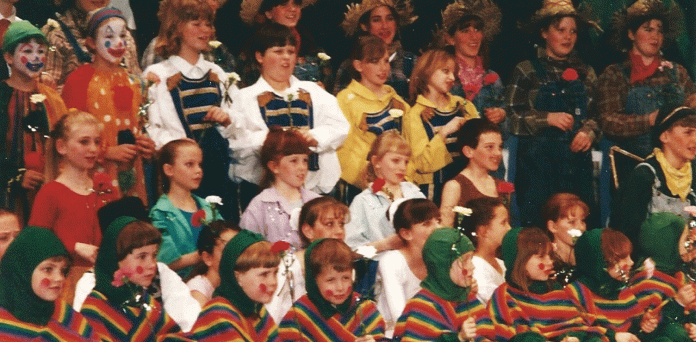 Theatre Production Makes Learning Fun
Fairy tales do come true. Back in 1998, the LuCille Tack Center for the Arts began a project that would repeat itself annually to the present: a week-long residency of the Missoula Children's Theatre (MCT). In late February that year, over 100 kids from Spencer, Colby, Unity and Loyal auditioned for nearly 60 roles in JACK AND THE BEANSTALK. At the time, they surely had no idea they were experiencing a unique opportunity that combined theatre with improving social and communication skills, self-discipline and self-esteem.
[Read more about the LuCille Tack Center HERE]
More than two decades and hundreds of children later, another pair of actor-directors will again make the journey in their little red truck from Missoula to Spencer's Tack Center. The offspring of those first participants will line up amid many others to try-out for a role in this season's encore production of JACK AND THE BEANSTALK. The excitement of the audition, the challenges of daily rehearsals and the adrenaline-rush of performing remain the same as they were back in 1998, but the culture and times have certainly changed. Today, more than ever, the skills MCT imparts benefit our youth in a way few other activities can.
There is much to be gained by both performing in and attending a MCT production. For those onstage, the visual evidence of life skill development is obvious. However, children in the audience can also begin to imagine new possibilities for themselves and, in doing so, become a little bit braver and broader. Adults can offer a wonderful gift to youngsters in their family and circle of friends by inviting them to be their guests at one of these shows Saturday, April 7 at the Tack. Whether at 3PM or 5:30PM, energy will be high, talents pushed to the limit and memories made. And in the process, just perhaps, a fairy tale will again come true.
The MCT Residency is sponsored in part by the generosity of: Citizens State Bank of Loyal, Forward Financial Bank, Patrick Kraus & Sarah Graves, Marty & Laurie Reinhart, Rembs Funeral Home – Greg & Tami Jackan & Families, Darin Thompson, Humberto & Debbie Vidaillet and the Wisconsin Arts Board. Tickets may be purchased online at lucilletackcenter.com or call 715.659.4499 for more information.
Caption for MCT 98.1.jpg: Cast photo of the Tack Center's inaugural Missoula Children's Theatre production in February 1998.