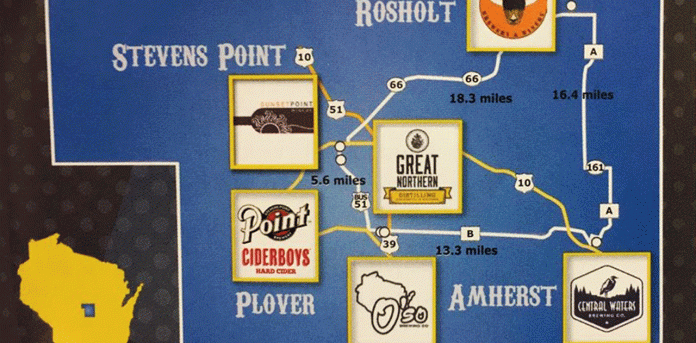 Local Tastes In and Around Stevens Point
Breweries, wineries, distilleries…all can be found within a half hour's radius of each other in the Stevens Point area. The following six businesses are part of the Central Wisconsin Craft Collective, which encourages visitors and residents to sample the business's local flavors. Make a day of it sampling and touring the facilities that bring these products to you. Most offer tours, and all offer great products. Wear closed-toe shoes and designate a driver as you explore the unique tastes each business offers and takes pride in.
Stevens Point Brewery
One of the oldest breweries in the United States, having turned 160 years in 2017, Stevens Point Brewery boasts an expansive operation that ships its product to half the nation and continues to invest millions in further growth.
Call to schedule an hour-long tour to peek into the brew kettle, get close to the assembly line, and touch malted barley. Learn the long history of the brewery and walk around the facilities. All tours include three samples of beer, cider, or gourmet soda, and a pint glass. Cost is $5 for ages 12 and up and $3 for ages 5-11. Under 5 is free. Tours are limited to the first 25 participants. Stop by the gift shop afterwards for a neat souvenir and, of course, some products to enjoy at home.
September through May, tours are available at 1 p.m. daily Monday through Friday, then Saturdays on the hour with the first tour leaving 11 and the last starting 3 p.m. June through August, tours begin each hour Monday through Saturday 11-3 and Sunday 12-2 p.m.
Address
2617 Water St.
Stevens Point, WI 54481
Call to Reserve: 715-344-9310 or 1-800-369-4911
Central Waters Brewing Company
Central Waters Brewing Company in Amherst is dedicated to being environmentally sustainable by using post-consumer recycled cardboard for packaging and bottles from a "green" manufacturer, and solar-heated water, among other practices. Raw goods for its beer is as locally sourced as possible.
Take a FREE tour Friday at 5 p.m. or Saturday at 3 p.m. Check out the tap room from 3-10 p.m. Friday, 12-10 p.m. Saturday, and 12-7 p.m. on Sunday.
Address
351 Allen St.
Amherst, WI 54406
(715) 824-2739
O'So Brewing
Currently located in a strip mall, the ten year-old brewer O'So has plans for a 35,000-square foot, water-saving facility by November 2018. There are forty Wisconsin Craft Beers on tap and the brewery is dedicated to using Wisconsin-made products for its production. Tours are offered at 2, 3 and 4 p.m. on Saturday for only $2, which goes to charity, and last anywhere between 20-45 minutes depending on the group. Guides walk tourists through the brewing process. Kids are welcome, and large groups should call ahead.
Afterwards, stop by the tap room (open until 10 p.m on Saturdays) to try some of the product.
Address
3028 Village Park Dr
Plover, Wisconsin 54467
(715) 254-2163
Great Northern Distilling
Located close to O'So, Great Northern Distilling opened in 2014 and makes small-batch spirits with ingredients located within 150 miles. The potatoes for the vodka come from only two miles away and is distilled in the traditional Polish style. Tours are $10, and 45 minutes at 1, 2 and 3 p.m on Saturdays, include a signature cocktail and a walk-through of the entire process, and tastes of the spirits. For groups of ten or less, no reservation is necessary. Arrive a little early to allow time for mixing your cocktail.
Address
1740 Park Ave
Plover, Wisconsin
715-544-6551
Sunset Point Winery
Located in downtown Stevens Point, Sunset Point Winery is located in a historic building with hardwood floors and a tasting room on the second floor. Sip and relax in one of the hammock swings with a glass of fruit or dessert wine, like Chocolate Raspberry Port. Tours are available on Wednesday at 6 p.m. and Saturday at 3:30pm. Cost is $10 and includes a tour of the facility, a drink voucher, and a souvenir glass.
There are also snacks, gifts, cheese craft sodas, and beer available, many sourced from Wisconsin.
Address
1201 Water St.
Stevens Point, WI 54481
(715) 544-1262
Kozy Yak Brewery & Winery
Small and cozy, Kozy Yak opened in 2012 and serves ales, stouts, lagers, wines from the owner's Fresar Winery, pizza and fresh pretzels. Perfect for small groups and conversation, they are open Saturdays from 2-6 p.m. and Third Thursday of each month from 5-8 p.m. Hours change depending on events and time of year, so be sure to check their Facebook page. Wine and beer can be purchased. New beers are common.
Address
197 N Main St
Rosholt, Wisconsin
(715) 677-3082