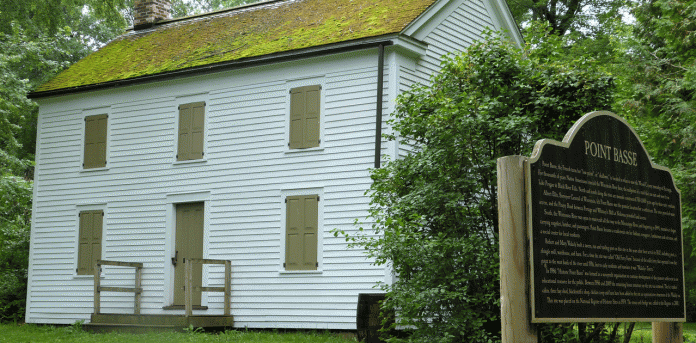 Activities, Crafts, and Demonstrations part of Hollyday Annual Event
Participate in an nineteenth century Christmas at Historic Point Basse during its annual Hollyday event. Watch and help the citizens of Point Basse (dressed in period costumes from the 1840s-1860s) as they get ready for Christmas. Visit the historical buildings on the site and get a hands-on look at period life through crafts and demonstrations.
At the Wakely home, make church pew dolls and enjoy English-style cranberry pudding with buttercream sauce, cinnamon rolls, and Christmas tea.
The blacksmith will be making things out of metal, and the shed will be the home of the woodworker. Make souvenir spinning tops using special tools. Enjoy hot chocolate and marshmallows, and listen to strolling carolers.
Watch a wood splitting demonstration and view the farm animals in the barn, learning what they eat in the wintertime. Visit with a Swedish traveler in the bunkhouse, who will display artifacts brought over in the 1800s.
In the trapper's cabin, there will be roasted hazelnuts and an open fire demonstration. Make Christmas decor in the schoolhouse and help decorate a tree.
The event takes place from 1-5 p.m. on Sat. December 16. Cost for adults is $3, $2 for students, with no cost for pre-schoolers. For further information call 459-1722 or visit the Historic Point Basse website.
About Historic Point Basse
In 1837, the young Wakely family arrived in the Wisconsin wilderness and built a trading post, inn, tavern, and home. The site became a rendezvous point for voyageurs, lumbermen, rafters, and Native Americans. The nonprofit organization formed in 1986 and has been an educational resource for the public, restoring the property and hosting events throughout the year.
Address
Historic Point Basse site
300 Wakely Road
Nekoosa WI 54457